How to get to Cozumel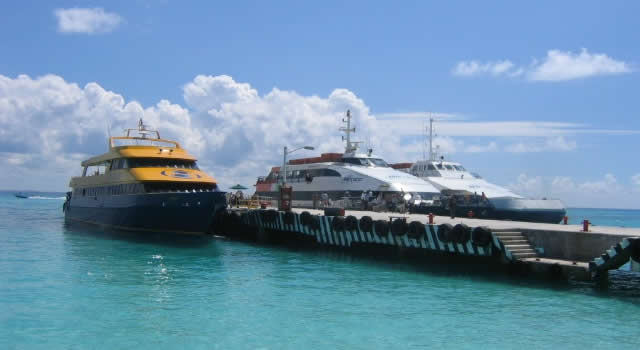 There are different ways to reach this beautiful island of Cozumel .Can be reached by sea, by air, from Cancun, Playa del Carmen. The island has its own international airport, is located two miles north of San Miguel town By air: Air Bridge .from Cancun at only 15 minutes flight with Mayair, offering 6 round trips per day on comfortable aircraft with capacity for 36 passengers. This company flies every two hours to Cancun odd and even hour every two to Cozumel.
Your itinerary starts at 7:15 am to Cancun and Cozumel until 9:25 pm from Cancun to Cozumel. By land: Modern trucks called ADO take you to Playa del Carmen to Cancun and back for a time about 45 minutes.
In Playa del Carmen the bus station is located just two blocks from the pier. Similarly you can drive to Puerto Morelos go right there to address a ferry to the island and enjoy all the attractions in their own vehicle. By sea:
The ferries travel the stretch of water between land and the island. Leaving from Playa del Carmen, visitors come to San Miguel in 45 minutes. Two companies cover this route. In the fastest, waterjets with air conditioning, Mexico Mexico I and II and Ultramar , it takes about 35 minutes.
By Ferry from Playa del Carmen: A new fleet of fast boats, with regular schedules and convenient service, you may be in Cozumel in 30 minutes leaving the dock in Playa del Carmen. Crossings begin at 6:00 am from Cozumel and the last is at 10:00 in Playa del Carmen. Tickets can be purchased just before the ship's departure.
The space in the vessel is sufficient to passenger demand, so that there is no need to worry about availability of space. Similarly you can buy a round trip Playa del Carmen-Cozumel-Playa del Carmen.
Also de Car ferry its available departing from Punta venado that is located only 5 minutes south playa del carmen.