Passion Island Cozumel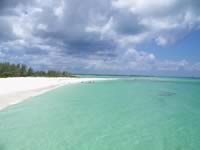 Passion Island is located north of San Miguel de Cozumel. It is a small, peaceful island endowed with beautiful beaches with an abundance of birds and turtles that arrive continuously and crocodiles to take refuge in the swamps. It is accessible for small boats, but you can also get to it by land, across from the beach in front of the island.


On this island you can enjoy a wonderful relaxing day away from the crowds, in this paradise of white sand washed by the turquoise waters of the Mexican Caribbean, enjoy while watching the natural beauty before his eyes, leaning to the seaside or under a palapa.
In addition to the overall atmosphere of tranquility that you can enjoy, you can also find many recreational activities and adventure, if you just want something extreme can tour the jungle in a jeep, manning a boat with pedals, or if you're looking for smooth sailing, you can also paddle a kayak, children find fun on the trampoline in the sea and even in the beach club child.
At the end of the day, nothing better than enjoying the all-inclusive Mexican buffet accompanied by variety of drinks to complete a day of utmost fun and relaxation.
Hotels in Cozumel