Cozumel Country Club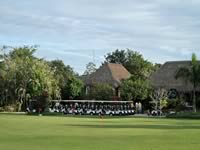 The Cozumel Country Club is the first golf course on this island and the newest championship course in the Riviera Maya. This field extends around trees surrounded by mangroves, wetlands and natural habitat of the island. This wonderful area is located just 15 minutes from the international pier and 10 minutes from Cozumel Airport, making it accessible to new visitors.

This field first class was created for players of all levels, providing a challenging experience for the golfer and a pleasant environment to the practitioner. Each hole represents the imminent threat of a ball lost forever in the woods, and in 13 of them, more than half, water plays an important role.
This, the only golf course on the island, has 18 holes and wild landscapes and gorgeous mangroves. At the site you can find blue crabs, iguanas, crocodiles, raccoons and many species of birds.
After the par five ninth hole, the degree of difficulty changes dramatically at each turn. After a strong group of par three, fifth and twelfth hole are best. The seventh hole is a handicap, where the street is sharply skewed, but the No. 16 and 18 are probably the most difficult though they are considered number two and four. The Bermuda 419 was used for roads and for hybrid Bermuda greens.
The Cozumel Country Club, find the clubhouse structure built with a rustic, thatched roofs and decorated with beautiful original mahogany furniture created by a local carpenter. In golf shops will find the latest equipment and products like golf clubs and golf shoes for sale. The snack bar offers light meals and refreshing drinks.
Image Gallery Cozumel Country Club