Restaurants in Cozumel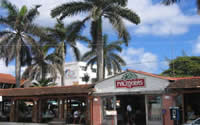 Cozumel is located in the Mexican Caribbean is a paradise for diving but also attracts tourists from around the world for its archaeological ruins and unmistakable, delicious and unique culinary flavors. One way to really get involved in the traditions and culture of Cozumel is eating here. Families can enjoy a traditional breakfast tacos in a family business. A couples will love the candlelight or an outdoor environment with the melodic sound of a local musician. While diving is the main activity of the island, the cuisine is known for its wide variety of flavors and a comprehensive proposal that satisfies even the most exquisite tastes.
Night activity and where are located the most important restaurants of the island of Cozumel, is in the small town of San Miguel. It is a lovely village with unique sunsets usually accompanied with restaurants of every type and category.
For a special occasion, try one of the fine dining options where special dishes are artfully prepared with locally inspired Mexican and Maya, Cozumel offers. Enjoy Cozumel restaurants, if you're looking for a romantic dinner with a beautiful view of the sea, Cozumel offers this and more in Cozumel you can choose between the variety of restaurants offering special regional dishes, serving Mexican mexican and seafood in romantic places. Places to eat in Cozumel are varied and therefore find exactly the type of food you are looking for.
You can find them by simply walking through the main square.

Palmeras, it is a classic reunion point of the island located in front of the ferry dock for both locals and foreigners and offers Mexican and international food.
Guidos  restaurant is popular for its pizzas and pastas.

Pepes The grill is the best place of meat.

Lobster house serves fresh lobster  and Caribbean dishes . Located in the north hotel zone of the island across the hotel Playa azul.

For American food there is the Hard Rock Cafe and for Mexican food with a loto fun  is the carlos and Charlies.

For the traditional home made food we recomend la choza that is located in the dowtown area of Cozumel.

The most popular restaurants on the beach are Playa Azul in the norht side and Mr Sanchos in the Routh side.