Villa de Pescadores
In the heart of Rio Lagartos, Yucatan, lies the town of Villa de Pescadores Hotel with beautiful views over the lagoon and the main street of the port.
This hotel   has an  easy access to downtown and the docks where people  embark on the eco tour boats.
It has a restaurant overlooking the lagoon that offers Mexican food and seafood.
The hotel is run by its owners with care and dedication to make your stay pleasurable.

Location: The hotel Villa de Pescadores is located in the port of Rio Lagartos  1 hour drive from Tizimn, 2 hours from Merida, Yucatan and 2 hours from Cancun.
Rooms Villa de Pescadores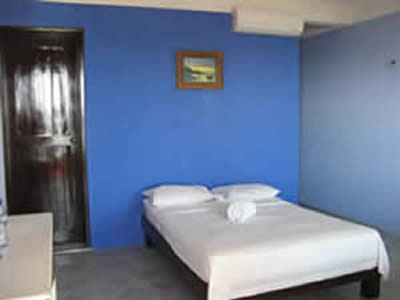 Room Services
All our rooms have the same services: furnished front balcony terrace
overlooking the sea, private bathroom w/hot-cold water, air conditioning,
ceiling fan, cable TV, mosquito netting.
Room Types
We have 2 room types, Standard y Superior.
Standard rooms have either 2 full size or 1 full & 1 single beds.
Superior rooms are on the top floor and have king size beds.
Facilities Villa de Pescadores
Restaurant for breakfast and dinner
Laundry
Internet wifi
Parking
Tours  Bird watching tours  and  the flamingos, , vegetation observation   and  mayan bathing in the  Pink waters of the  salinas . Price per boat $ 48 usd
Villa de Pescadores hotel services

The hotel has a restaurant -for guests only- overlooking the sea, that serves outstanding "catch of the day" fish specialties, seafood & vegetarian dishes, and one of the best tasting coffee's you will find in Mexico. The restaurant may open before dawn to provide coffee and toast to the early rising birding enthusiasts. Villa de Pescadores provides free WiFi Internet in the restaurant area and in some of the rooms. The hotel
can arrange for you boat tours to the Ria Lagartos Biosphere Reserve, Sunset tours, Bird Watching and fly fishing or bottom fishing trips. Villa de Pescadores hotel has vehicle parking free of charge for its guests.
How to reserve.

We only confirm reservations that have paid the first night of their stay. A reservation is confirmed when we receive payment for the first night of the stay. The hotel contacts the guest to inform her/him about a confirmed reservation.
Photo Gallery Hotel Villa de Pescadores