Tour Hacienda Sotuta de Peon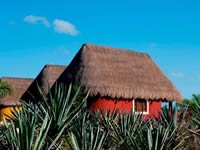 La Hacienda Sotuta de Peon is an example of the splendor of the estates. Where we witness the process of this agave to obtain the natural fiber called Soskil . The Yucatan henequen haciendas produced 90 percent of world production at that time giving us a clear idea why the henequen was called "green gold".
This tour offers a look back colonial Yucatan. Sotuta de Peon, Live Hacienda, the restoration project is a monument located in the heart of the old part of henequen in Yucatan state, and gives a real idea of what was once a henequen hacienda fully operational in great style and tradition of this period. When touring Sotuta de Peon, visitors live a real time travel, transporting them on wooden platforms pulled by "mules", known as "truck", on rails, which were originally used by workers. Here you can witness the process, step by step transformation Henequen of plant fiber and fiber to finished product.
You will also have the opportunity to see the ancient machinery that has been rescued from the ravages of time and rebuilt to precise operational capacity. Add to this the unique geological formations of our secret places, beautiful crystal clear cenote. At the end of the tour, you can dive to swim in the cold waters of Cenote. Similarly you will find a large swimming pool, surrounded by lush gardens with tropical flowers and bright green trees and native plants. The tour begins with the main house where you will be surrounded by an elegant antique furniture, which gives you an idea of the wealth that was generated by the cultivation process, industrialization, and finally the export of sisal to expect countries worldwide. The second stop is Scrapper Machine, in which the fibers are crushed and processed, this machine has the capacity to process 100,000 sheets in 8 hours.
The next step is the press where henequen cubes packed ready for shipment to town. The next stops are in corchería that stores dry fiber, called "Soskil" to be transformed into strings, yarns, carpets and more, then you can stop to see how workers comb the fiber to make little to bit strings of different thickness in the whole process is done manually, the single machine is used to distribute the fiber. If what you seek is a good time of relaxation and distraction but their work will not let daylight in Hacienda Sotuta de Peon, also have a night tour that will take you to discover what you never imagined could happen on a farm as big as this evening.
The route is similar to the morning, and this also includes a threesome time while you savor the dishes of Yucatan has to offer.
Hotels In Merida Yucatan