Dzibilchaltun Ruins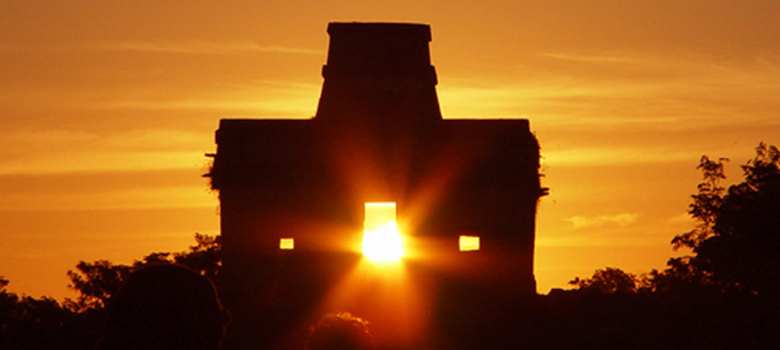 Dzibilchaltun means "place of writing in stone" and is the largest Mayan city discovered until, with more than 200,000 inhabitants at its peak. The city covers 16 square kilometers and has more than 8,000 structures. Which also was occupied continuously for longer, the first built in 500 AD and still had people in the time of the conquest. The city reflects the evolution of Maya culture, science and construction techniques. The city was abandoned after the conquest.
Dzibilchaltun offers many attractions. The most famous is the famous Temple of the Dolls. Each year during the autumn equinox and spring the sun rises exactly through the door and out the back windows. Another important structure is the large central square that includes the largest Mayan palaces.
As an example, one of the chambers is 130 meters long and has 35 gates. You can visit the chapel built by the Spanish during the conquest of Yucatan. A little further on you will find the temple standing and great Xlacah cenote where you can swim to cool off. Dzibilchaltun also has an important museum, with several Spanish and Mayan artifacts, from pottery to paintings, armor and weapons Spanish, various Mayan carved lintels and carved stones in excellent condition.
The Temple of the Seven Dolls is at the archaeological site of Dzibilchaltún Maya, 16 km. north of Merida. Dzibilchaltún means "the place where there is writing on flat stones," referring to the many memorial stones found at the site. The cenote Xlacah, meaning "old town," is one of the few cenotes of Yucatan on earth. It is one of the largest and deepest, reaching 43 meters deep. Many archaeological remains found in the cenote. Dzibilchaltún also a unique National Ecological Park, with hundreds of species of wildlife.
And the Maya Village Museum, its located in the site, not to be missed. One of the most important things in the museum is a typical Mayan house, and a path of unique trees in the area that leads to the temples. You can explore around the roads and this will give you the unique opportunity to enjoy nature, the flora and fauna of the Yucatan Peninsula.
You can spend an entire day exploring the archaeological site, the museum and around the cenote. The site has several services Dzibilchaltún to make visitors more comfortable: a restaurant, craft objects in the gift shop, information booth, medical services, telephone, facilities for disabled people, restrooms, and parking.
Located only 15 minutes north Merida City, taking the highway to Progreso.
Do not wait, book your hotel now in Yucatán
Image Gallery Dzibilchaltun Ruins
Hotels In Merida Yucatan