El Cuyo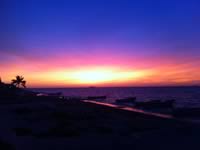 In eastern Mexico, near the political division of the states of Yucatan and Quintana Roo, is located El Cuyo. El Cuyo is a major fishing port near Tizimín Town. This municipality is located 220 km from Merida. El Cuyo is the ultimate tourist spot overland Gulf of Mexico, near the end of the estuary that begins at the place mentioned in the chronicles of the European conquerors under the name: Rio Lagartos.
El Cuyo is called the hidden treasure of the Emerald Coast of Yucatan. You can find this charming fishing village on the northeast coast of the Yucatan Peninsula, where the turquoise Caribbean water mixes with the shallow waters of the Gulf of Mexico. It is located just two hours of the tourist destination of Cancun and three hours from the city of Merida, capital of Yucatan state.
The special location of El Cuyo offers breathtaking sunrises and sunsets on the beach. And at night, you can enjoy a romantic campfire on the beach and look to an infinite sky full of stars. To get to El Cuyo, you can go north of Valladolid bound for Tizimín, must cross the road on the channel of Rio Lagartos, above a lagoon where the color red is a high concentration of salt. This gap separates El Cuyo mainland of the rest of Yucatan.

Hotels in El Cuyo