Be-Tulum
Be Tulum Hotel has been created with all the charm and quiet of nature, preserved in 20 exclusive suites in the jungle, the white sand and the sea.
Made with local materials that blend into the environment, with spacious terraces and private pools give you the freedom and privacy you need. Comfortable and sophisticated interior, furniture design, a space that wherever he looked lost finds beauty, light and natural detail.
We hope you enjoy your stay with us and who take home a unique experience filled with unforgettable memories.
Rooms Hotel Be Tulum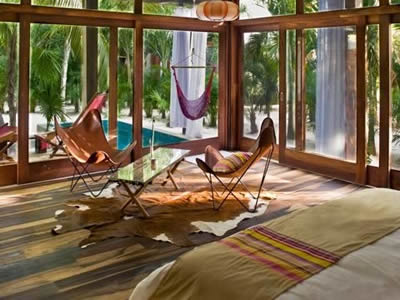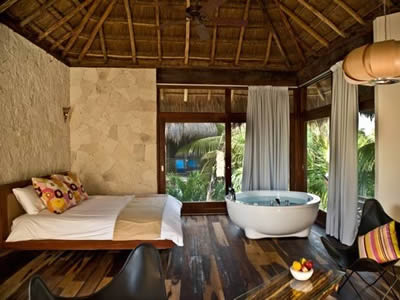 Jungle Suite , 12 Suites distributed between the first 3 modules of rooms, surrounded by white sand, gardens and palm-trees. With private pool on the ground floor or Jacuzzi on the second floor..
Arena Suite, 6 Suites distributed between the 2 ocean front modules, just steps away from the beach. Enjoy incredible views and the ocean breeze. All rooms have a private pool or a Jacuzzi on the second floor.
Ocean Suite, 2 Suites located on the second floor of the ocean front modules. These suites have a balcony, a Jacuzzi and a private terrace with a pool, where you will be able to enjoy the Tulum sunrise and the amazing sunset over the lagoon of Sian Ka'an.
Weddings in Hotel Be Tulum
We will take care of every detail of your special day. We will not only make your wedding memorable but we will also make sure every guest feels welcome. We will organize the wedding ceremony just as you want it, so that it will be unique and original. Do not hesitate to ask our Wedding Planner about any specific requirement you may have. Enjoy dinner on the beach, surrounded by candles and torches under the moonlight. We have the ideal place and the expertise needed for you to celebrate a dream wedding.
Facilities Hotel Be Tulum
Room service
Housekeeping
Laundry (This service is outsourced)
Dry cleaning (This service is outsourced)
Information
Lost & Found
Water
Photo Gallery Hotel Hotel Be Tulum