MUSA Cancun Underwater Museum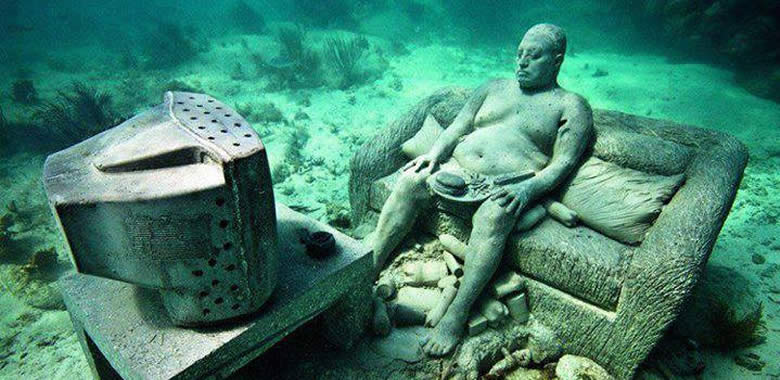 Photo: 2ilorg
Creator of the first underwater sculpture park in the world, Jason de Caires Taylor has gained international recognition for the originality of his work. Currently, it has embarked on the most ambitious project of his career, creating a monumental underwater museum in the National Marine Park of Cancun, Mexico. Underwater Art Museum consists of more than 400 life-size sculptures to create artificial reefs for habitation by marine life.
Through his sculptures underwater, Taylor explores the relationship between modern art, man and the environment. His work promotes the potential for a sustainable future, framing human intervention in nature in terms of regeneration. The National Marine Park of Cancun attracts more than 750,000 visitors a year, which represents a very high pressure load to existing reefs.
Taylor seeks to reduce this damage warning allowing natural reefs regenerate and develop. the artificial reef can be seen in clear, shallow waters, allowing easy access for divers, snorkeling and even practitioners, crews glass bottom boats. The Water Museum is certainly an initiative that is expected to be one of the most popular attractions of Cancun, diverting the attention of so exploited natural reefs.
In 2009 the first steps of the Museum of Cancun Aquatic formed in the waters surrounding Cancun, Isla Mujeres and Punta Nizuc and aims to demonstrate the interaction between art, science and the environment, forming a sustainable structure for marine life. The sculptures were designed by Jason de Caires to become artificial reefs. This promotes marine life and create areas for corals and sea creatures helps to breed and take refuge, boosting the local ecosystem. The sculptures will change over time as the coral grows and marine life colonizes structures.
The sculptures are prepared so that they are resistant to damage. All of them life-size human figures, created by De Caires. The first sculptures were immersed The Collector of Lost Dreams, Man on Fire and The Gardener of Hope. The appreciation of this museum can be done either on the seabed, and outside it, as all the pieces submerged form the silhouette of a human eye that can be seen from the air.
The relevance both environmental and cultural museum, makes it an exceptional and unusual journey for those who visit. The works are on view for all tourists visiting this place as one of the attractions of Cancun that make it a unique destination in the Mexican Caribbean.
Deals on places to stay in Cancun
Booking Now MUSA Cancún
Rates From: $53 USD

Museum of Underwater Art and Sculpture, MUSA
Image Gallery Subaquatic Museum