Punta Sam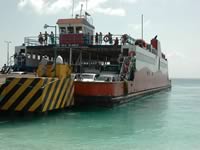 Punta Sam is the starting point for the car ferry leading to the main island in front of Cancun: Isla Mujeres Staying in some nice hotels or villas in this section of Cancun, you can enjoy spectacular sunrises and the soothing sounds of the Caribbean Sea.
In addition, tourists love walking on the white sand beaches of Punta Sam and relax with the breathtaking scenery. Between Punta Sam and Puerto Juarez, one of four pre-Hispanic sites in Cancun can be visited: El Meco. Despite being one of the smaller archaeological sites in the region, El Meco played an important role as a communication point of Isla Mujeres, which now belongs to the municipality. El Meco was inhabited in the classic period. This was a crucial benchmark for coastal navigation, even at night.
The other three sites are Mayan King, La Dune and El Cerrito. Punta Sam is a residential community in the north of Cancun that offers a more relaxed atmosphere than the Hotel Zone, and many tourist facilities and beautiful seascapes. Among the activities that you can perform when visiting Punta Sam, is the dive, you can find havens to enjoy this exciting activity, admire reefs up to 10 meters deep.
Similarly you can enjoy sailing: for the exhaustive beaches of Punta Sam, the most chosen to navigate and find unique landscapes. Among the best places to eat, there is located the Flamingos restaurant , the most famous of the region and no wonder if the best. Daylife in Punta Sam, is well known throughout the state of Quintana Roo. You can find a some small restaurants or bars beach front located, places to enjoy the night until the last hours of the day . You can dance to your favorite music while enjoying delicious drinks, as most bars have great national and international tropical drinks.
Deals on places to stay in Cancun