Playa Mujeres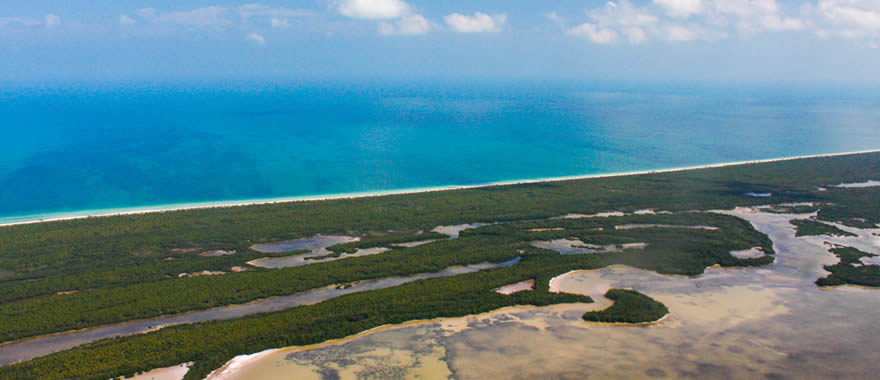 Just 25 minutes north of Cancun lies a quiet peninsula of white sand beaches and jungle. White Island is bordered by the Caribbean Sea and Laguna de Chakmochuk and is a secret hideaway, a great escape from the hustle and bustle of Cancun. Ideal for camping on the beach, rent a rustic cabin for the night or just visiting for the day, is an oasis of tranquility for those who want to escape the big resorts and crowded beaches. A skate school attracts crowd surf adventure.
About 20 miles north of Cancun, Isla Blanca is a small tract of land with a narrow sandbar and very low altitude above sea level. To the east, the island borders the Caribbean Sea, while to the west, Isla Blanca bordering the waters of Laguna de Chakmochuk.A reef lies less than a mile or 1550 meters away from this wonderful island. Although not really an island, Isla Blanca north is south of Cancun and Isla Holbox. Here you can swim in the lagoon Chakmochuk which is on the east side. The area is served by a road that is in good condition. And also an excellent opportunity for a day trip from Cancun. Most of the fishing is done from the boat and all year can be found Snook, Barracuda, "Permit", "Bonefish", "Tarpon".
Hence, Isla Blanca is considered a paradise for this activity known as fly fishing. It is also possible to stay in Isla Blanca, so if your purpose is to fish, you can save travel time. To get to the White Island is a remote stretch of dirt road, no public transportation (or traffic) here. The island is connected to city services so often electricity is provided by wind or solar power generators or diesel and no phone service and no convenience store nearby. Playa Mujeres is a new development in Cancun and consists of a few luxury hotels in new construction plus a golf camp and the marina la Amada . Playa Mujeres is part of the municipality Isla Mujeres but is on the mainland and it is not necessary to travel by ferry to get here. It lies north of Punta Sam, about 15 km from downtown Cancun.
Deals on places to stay in Cancun