Cancun Public Beaches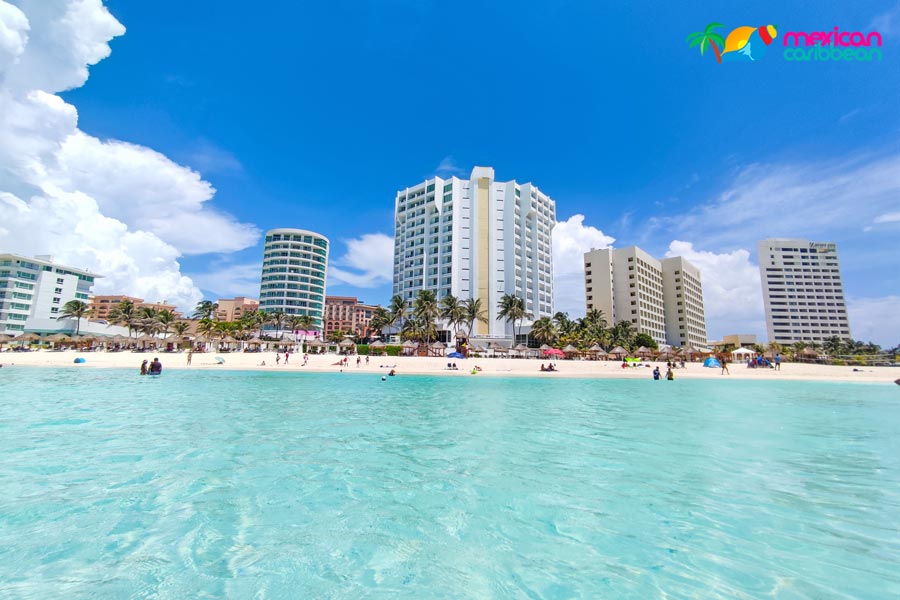 The beaches are the main attraction in Cancun with its soft white sand and bright turquoise water. The Hotel Zone is actually a long beach  separated from the mainland by  the Nichupte lagoon.
All these beautiful beaches are open to you as all beaches in Mexico  because are public .       Several beaches in Cancun are reserved for easy public access, but you should know that you can  walk and swim at any beach at all.  it may be difficult to approach certain stretches of beach across the hotels , but few hotels will realize that you can walk on the beach.
While all the beaches of Cancun are technically public (government owned), you may not be able to access the beach by walking through a hotel, which is privately owned. Visitors staying in hotels that are not on the beach can access the beaches in any of the 10 entrances  with  public access. These ten beaches are:
Playa Ballenas
Public entrance  is a sidewalk along the  Wall of  Meridien Hotel. Incredible views and you can sunbath. Keep an eye on the flags of warning, since the currents can be very dangerous at any time of year. At mile 14 in the Hotel Zone, between Punta Cancun and Punta Nizuc.
Playa Caracol and Playa Las Palmas
The entrance is hard to find. Go through the small wooden door next to Fiesta Americana Coral Beach. Also available through the Xcaret bus terminal. Punta Cancun area, ideal for children or beginner swimmers. One of the nicest beaches due to its flat shallow sandy bed. Located 8.5 km from the hotel zone.
Playa Chac Mool
Public entrance is across the street from señor  Froggs. With restaurants on hand. Note however, that the currents are strong and it is tempting to get too far into the shallow water. Good water sports area (sail boarding, water skiing and parasailing). Located 10 km in the Hotel Zone near Punta Cancun.
Playa Delfines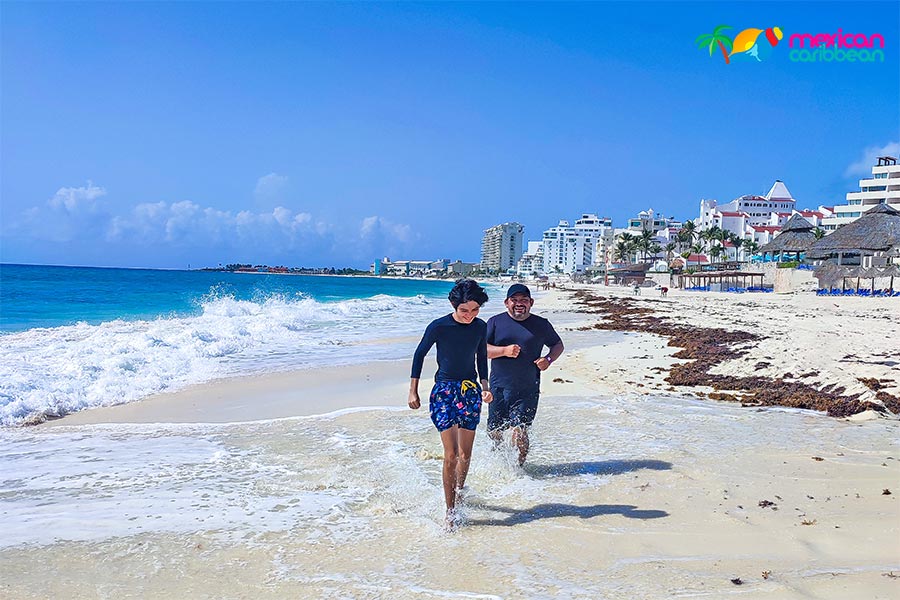 Peaceful views for  sunbathing. However, it also provides hazardous swimming conditions in the strong waves and currents sometimes treacherous. There are some stone benches to sit and watch the sea, but no other facilities. At mile 18 in the Hotel Zone near Punta Nizuc.
Playa Juventud
Here is a good place to swim and a good place for water sports. Located off of Kukulcan Boulevard at km. 3 in the Hotel Zone.
Playa Langosta
Excellent swimming. Located in the center of the north end of the hotel zone and facing the Bahia de Mujeres, you can find some of the best swimming that Cancun has to offer in Playa Langosta. Many of the restaurants and beach bars. Located at km. 5 of the Hotel Zone. A dock with shuttles to Isla Mujeres and other tours also in this case
Playa Las Perlas
Another good place to swim and a good place for water sports. There are restaurants and bars on the beach. It is located at km 2.5 in the Hotel Zone.
Linda Beach: excellent swimming. Near the center and facing the Bay of Mujeres. Some of the best swimming around Cancun. With nearby restaurants. Playa Linda Pier is the starting point for submarine and dive tours. Located 4 km in the Hotel Zone.
Playa Marlin
Its located  behind Plaza Kukulcan. Delight Bather. Well known for its incredible views, take a  sunbath in peace. Keep an eye on the warning flags, as the currents can be dangerous. Located 13 km in the Hotel Zone, between Punta Cancun and Punta Nizuc.
Playa Tortugas
This beach is perfect for water sports. A number of restaurants and refreshment bars are here too. Located at Km 6.5 Hotel Zone. Dock offers shuttles to Isla Mujeres and other tours.
Some beaches near these restaurants are located in the Hotel Zone, as
La Panza Es Primero: Mexican Cuisine, Restaurant-Bar
Mocambo: Bar Beach, Sea Cuisine, Seafood, Restaurant-Bar
Tequila Grill by La Parrilla: Area Events, Bar, Charcoal Meat, Mexican Cuisine, Live Entertainment, Grill.
La Dolce Vita: Italian Food.
The nightclubs are not left out, some of which can be found in the hotel zone and close to these beaches, are:
Sugar Bar Caribbean
Coco Bongo
Dady'O
Dady Rock
Merengue Room
Sr. Frog's
Tequila Boom
Tequila Rock
Hotels in Cancun Beach
Photo Gallery Cancun Beaches