Puerto Cancun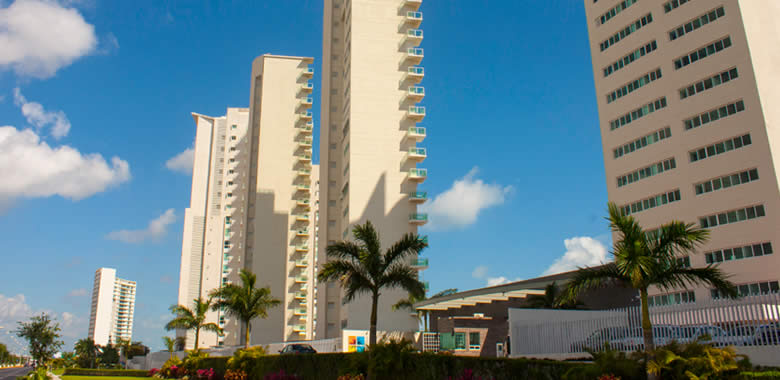 Puerto Cancun is a tourist and residential community located in last undeveloped stretch of beach in Cancun's famous hotel zone. The development includes areas designated for mega yachts marina, a golf course designed by Tom Weiskopf, 5 star resorts, condominiums, a resort village and commercial áreas , a business park, single family lots and residential lots. Also, included in the development of 327 hectares, there is a conservation area which extends over 75 hectares that support various types of wildlife and 100 different species of plants.
Located on the shore of the Sea and close to everything. At the heart of this wonderful community is Puerto Cancún, an exclusive development of 327 hectares multifunctional, which is based on a master plan carefully crafted by firms architectural industry leaders, including Artigas EDSA and Architects. It is located on the beach last extension available in the hotel zone, so that the unique properties here are coveted.
The 800-acre master plan that includes development, a large marina, yacht berth at the edge of the houses, a beach club house designed by Humberto Artigas, amenities and a large ecological reserve. The professional golf course with 18 holes designed by Tom Weiskopf, covers 75 hectares. The Hole 18 ends on its own island in the main channel of Puerto Cancun. The 14th hole is located beachfront and covers more than 400 yards, offering spectacular views of the Mexican Caribbean.
The Village resort generates great activity in Puerto Cancun and provides a place for food, fun and entertainment. This helps to incorporate the concept on which it is built Puerto Cancun, a city within the city. This area will soon become the main attraction in Cancun to Puerto Cancun residents and tourists. The marina of Puerto Cancun is the largest Cancun. Specifically designed to accommodate mega yachts up to 125 feet in length, the marina will host the Cancun nautical community with over 175 points to park .
El business center of Puerto Cancun has been incorporated into the master plan as an additional resource for its residents and the community around the development. These offices and commercial space business sponsor to provide the community within Puerto Cancun, ensuring that the needs of everyday life are near their home.
The ecological conservation zone covers nearly 75 hectares, which is home to several species of wildlife and 100 species of plants from the region. Puerto Cancun was designed with the idea of having to hand everything needed in life in this space. With the approach of the mega yacht marina, a golf course, shopping area, the village resort and other resorts, nothing is far away.
Do not wait, book your hotel now in Cancun