Hotel El Dorado Maroma
Located on one of Travel Channel's Top Ten Beaches In The World, El Dorado Maroma is pure beachfront heaven.Deemed one of the most romantic boutique resorts, the upscale and intimate 72-room luxury property features all Jacuzzi Jr. Suites with breathtaking ocean views and nightly turndown service. The on site beachfront wedding chapel and gorgeous Caribbean landscape set the stage for sensational destination weddings and honeymoons as well as an active beach vacation. Activities such as sport fishing, snorkeling, diving, kayaking.
And sailing are all within steps from the hotel. And if you are lucky at fishing, the chef will be happy to prepare your catch anyway you like it.
Rate From $194 USD per night

El Dorado Maroma, a Beachfront Resort, by Karisma is located directly on the spectacular "MAROMA BEACH", in Riviera Maya, Mexico. MAROMA BEACH is considered to be one of the top beaches in the world by independent reviewers, including Travel Discovery Channel.  It is just 40 Minutes south of Cancun Airport, 35 minutes south of downtown Cancun, 10 minutes north of Playa del Carmen and 15 minutes from the Playacar Golf Club. An upscale and intimate 72 room boutique luxury hotel nestled into the coast of the Yucatan peninsula, overlooking the crystalline turquoise waters of the Mexican Caribbean.
El Dorado Maroma, a beachfront resort shares premises with Marina Maroma, which offers Deep Sea Fishing and a wide variety of water sports and other activities only steps away from the suites. El Dorado Maroma , a beachfront resort provides an unparalleled Mexican vacation experience for couples and families (with children 16 years old and over) looking for the perfect mix of personalized service, exquisite details, and unforgettable adventures.
Rooms Hotel El Dorado Maroma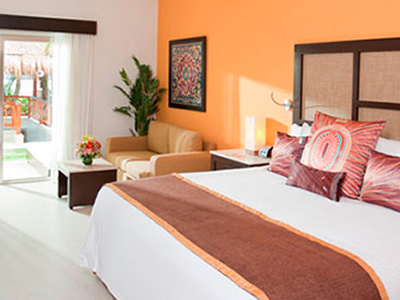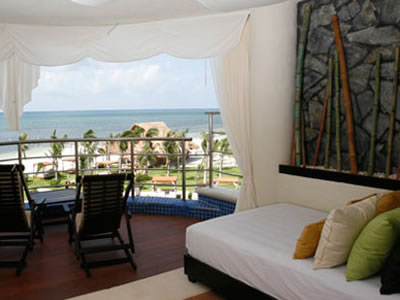 All suites and facilities at this beach front property face the white sands and clear waters of the magical MAROMA BEACH.  All the Suites at El Dorado Maroma were designed in a contemporary ingenuous Caribbean and Luxury décor. All accommodations are equipped with both air conditioning & ceiling fan, king size beds, satellite LCD TV, DVD/CD player, telephone, shower, hair dryer, ironing board & iron, safety deposit box, mini bar, coffee/tea maker, oversized terrace and breathtaking views of  the Mexican Caribbean Sea.
Suites are smoke free, but smoking is allowed in open air areas.
Three suite categories are available:
24 MI HOTELITO BEACHFRONT
All with king Size bed  and the most beautiful and spectacular  view of the white sands of Maroma Beach and  the Caribbean Sea.
12 SWIM UP JACUZZI SUITES
Ocean front luxury suite, with king size bed, that literally allows our guests to swim up to their private  terrace from the lazy river connected to the main pool.
36 INFINITY POOL JACUZZI SUITES
Our most luxurious ocean front suite, featuring a private pool on the terrace.  All with a king size bed.
Facilities Hotel El Dorado Maroma
Scuba diving trips, certificates, rental equipment and deep-sea fishing.
Motorized Water Sports
Tour desk
Car rental
Shuttle service to Cancun & Playa del Carmen
Romantic or family dinner on the beach
International wine selection from our cellar
Baby-sitting services
Laundry service,
Gift Shop & Logo Shop
Telephone service, Internet services, Fax services
Money Exchange
Medical services available 24hrs a day, on call.
Special wedding, honeymoon and anniversary Packages.
Spa Service
Designed to be an elegant tropical haven to relax your senses, our spa features:
Massages: Relaxing & anti-stress, Swedish, sports, reflexology & shiatsu.
Facials: Deep cleansing, moisturizing, nourishing, revitalizing & oxygenating.
Special body treatments: Exfoliating body scrub, milk bath, thermal mud massage, Royal deluxe.
Beauty salon: Manicure, pedicure, braids.
SABORES – NEW MEXICAN CUISINE
A la Carte Restaurant Serving power breakfast to make you ready for an adventurous day;  irresistible Mexican & Caribbean specialties with international flair, as well as the most exclusive fresh seafood dishes caught daily for the traveling epicurean. Our chef uses the latest culinary techniques to make every bite an unforgettable experience.
Breakfast from 7:00 AM to 10:30 AM
Lunch from 12:30 PM to 4:00 PM
Dinner from 5:30 PM to 10:00 PM
KIYOKO – ORIENTAL RESTAURANT
Where the sea meets the sky a unique heaven arises. Kiyoko restaurant is a mystical combination of heaven and ocean. Here you will experience Asian-inspired cuisine served in the most creative ways. Sushi, sashimi, tepanyaki, dumplings, and other delicious main courses are enjoyed in this tasteful setting.
Dinner from 5:30 PM to 10:00 PM
MIO – CUCCINA ITALIANA
Intimate Italian dining with a traditional approach featuring creative cuisine from Italy's sunny coastal and Island areas. Enjoy a variety of  Ocean Fresh Fish Carpaccios,  Fruti di Mare  and exquisite Pasta  among other succulent   dishes with authentic ingredients in a relaxing and romantic atmosphere.
Dinner from 5:30 PM to 10:00 PM
SWIM UP – BAR "24"
Ocean front bar serving an exciting variety of tropical drinks, Mexican beers, cheladas prepared to taste and healthy energizing drinks in a laid back Mexican Caribbean atmosphere.
Open from 10:00 AM to 6:00 PM
RICK'S BAR 
Offering a wide selection of national and international premium brands, this classic Mexican ocean front bar allows for relaxation and fun all in one, featuring pool tables, music and
great drinks.
Open from 6:00 PM to 2:00 AM
Rooms & Rates Hotel El Dorado Maroma
| | | |
| --- | --- | --- |
| Mi Hotelito Beachfront Suite | Single | Double |
| 12/23 - 01/02 |  $             417 |  $             299 |
| 01/03 - 01/31 |  $             358 |  $             241 |
| 02/01 - 04/12 |  $             370 |  $             252 |
| 04/13 - 04/30 |  $             340 |  $             223 |
| 05/01 - 05/31 |  $             334 |  $             217 |
| 06/01 - 08/24 |  $             346 |  $             229 |
| 08/25- 10/31 |  $             311 |  $             194 |
| 11/01 - 12/22/ |  $             329 |  $             211 |
| | | |
| --- | --- | --- |
| Swim Up Jacuzzi Suite | Single | Double |
| 12/23- 01/02 |  $             452 |  $             334 |
| 01/03 - 01/31 |  $             393 |  $             276 |
| 02/01 - 04/12 |  $             405 |  $             287 |
| 04/13- 04/30 |  $             375 |  $             258 |
| 05/01 - 05/31 |  $             370 |  $             252 |
| 06/01- 08/24 |  $             381 |  $             264 |
| 08/25- 10/31 |  $             346 |  $             229 |
| 11/01 - 12/22 |  $             364 |  $             246 |
| | | |
| --- | --- | --- |
| Infinity Pool Jacuzzi Suite | Single | Double |
| 12/23 - 01/02 |  $             510 |  $             393 |
| 01/03 - 01/31 |  $             452 |  $             334 |
| 02/01 - 04/12 |  $             463 |  $             346 |
| 04/13 - 04/30 |  $             434 |  $             317 |
| 05/01 - 05/31 |  $             428 |  $             311 |
| 06/01- 08/24 |  $             440 |  $             323 |
| 08/25 - 10/31 |  $             405 |  $             287 |
| 11/01- 12/22 |  $             422 |  $             305 |
Photo Gallery Hotel Hotel El Dorado Maroma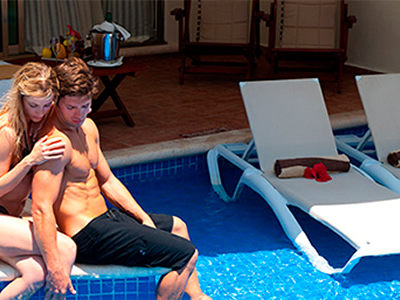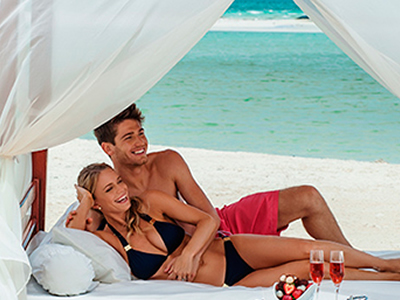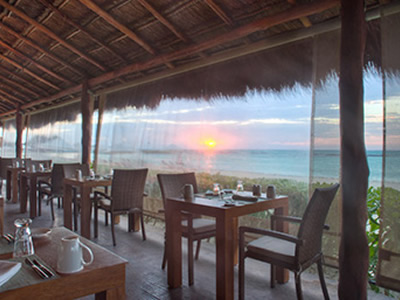 ---