Swim with Dolphins Puerto Aventuras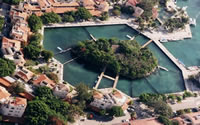 Puerto Aventuras, set on a spectacular stretch of white sand beach, is a 900 acre resort community located 98 kilometers south of Cancun. The resort is built along the beach and around a large marina complex.
The Dolphin Discovery facility sits in the heart of the complex and is built on a lush, tropical island in the middle of a lagoon that is home to our dolphins. Visitors to Puerto Aventuras have the added benefit of seeing our two manatees, Romeo and Juliet who were rescued from a polluted lagoon in 2000, and who are now the ambassadors of their species, educating and delighting our guests in our Sea Life Discovery programs.
Puerto Aventuras is also an excellent destination for people who want to relax in a setting of amazing natural beauty. Enjoy a drink or a meal at one of the nearby bars or restaurants and watch the world go by.
For those craving a little more activity, the area offers golf, diving and fishing. Its location in the heart of The Mayan Rivera makes it an ideal base for people wanting to explore the coast. The fa mous archeological site of Tulum is only a short drive away.
Dolphin Royal Swim
The most dynamic of our programs, the Royal Swim allows you to experience the magic of swimming with dolphins while you perform exhilarating skills with them.
Following a brief orientation during which a Dolphin Discovery trainer will teach you about these amazing animals, you will get into the water to enjoy this unique "Experience of a Lifetime." Some of the breathtaking activities that you will experience include the following: kiss, jumps, foot push, dorsal tow and free time.
Includes: Snorkel with stingrays or sharks, 1 family
photo with sea lions or manatees,
*Box lunch
Rate: $129 USD
Dolphin Swim Adventure
A unique opportunity to swim and snorkel with dolphins! Experience the joy of a dolphin kiss, marvel at the dolphin's strength as you are towed through the water in the 'belly ride', and fall in love with their gentleness as you cradle a dolphin in your arms.
Then put on your mask and snorkel to get an incredible view of the dolphins as they speed and spiral swim through the water and demonstrate their amazing agility. At the same time, the dolphins will swim frequently in and out of the groups allowing all participants to keep caressing and viewing them from up close. Not to be missed... Duration of program: 45 minutes (including orientation).
Rate: $99 USD
Dolphin Encounter
The Encounter Program is a unique experience for dolphin lovers that brings you closer to dolphins than you ever dreamed possible. In the Encounter, we focus on allowing everyone to enjoy having the dolphins close up and personal while our trainers teach you about these amazing animals. During this program, you will stand on a waist deep submerged platform, and you will experience the following amazing activities: song, race, enjoy, cradle, touch and tail walk.
Rate: $69 USD
Dolphin Sea Life Discovery Plus
The only program in the world where you can interact with stingrays, manatees and swim with dolphins. This unique program brings you the ultimate interactive experience.
Start your adventure with a behind-the-scenes tour, where you will learn about how we care for the various animals. You will also help our experts in preparing the food for the manatees, which you will feed to them during the program.
Be thrilled by the soft touch of the stingrays as you feed them while kneeling in the water and then meet our three amazing manatees - Who could resist their kisses? - and interact with these gentle creatures, before moving on to the excitement of a swim with the dolphins, to complete your Experience of a Lifetime!.
Rate: $169 USD
Do not wait, book your hotel now in The Riviera Maya
Image Gallery Swim with Dolphins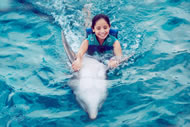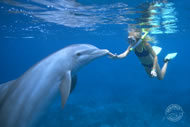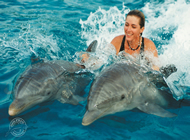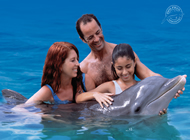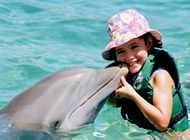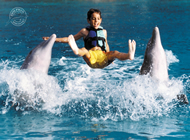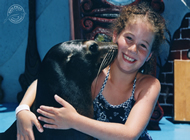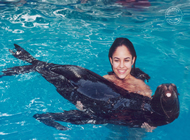 ---