The Reef Coco Beach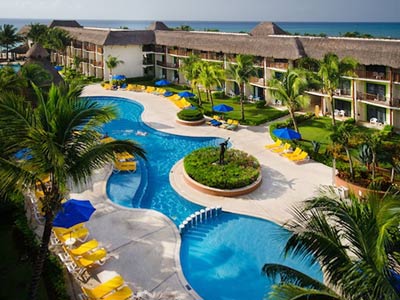 Located along a sun-kissed stretch of Caribbean coastline just a short stroll from trendy Playa del Carmen, The Reef Coco Beach evokes the rich history and romance of Mexico's sought-after Riviera Maya. Intimate and understated, this classic all-inclusive beachfront resort effortlessly blends the beauty of one of the world's most magnificent beaches with fine dining, a luxury spa, world-class golf and exhilarating activities from sunrise to sunset.
Rooms The Reef Coco Beach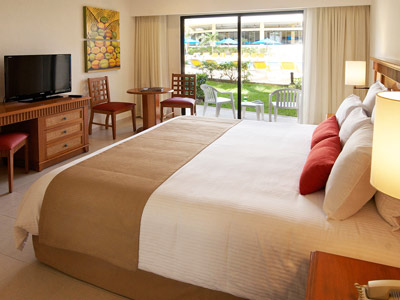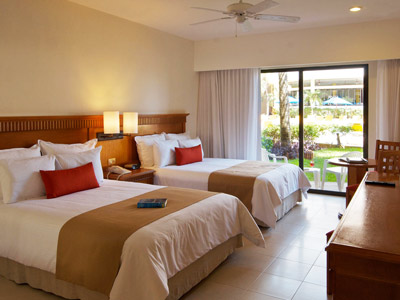 The Reef Coco Beach has 196 guest rooms scattered in 18 charming villas that dot the resort's lushly landscaped beachfront setting. All rooms are equipped with:
One king size or 2 double beds
A furnished balcony or terrace
Private bath room
Hairdryer
Vanity mirror
Iron & iron board
Air conditioning
Ceiling fan
TV
Telephone and an alarm clock


Facilities The Reef Coco Beach
Large swimming pool with dedicated children's area
Three outdoor Jacuzzis
Spa and Fitness Center
Kids Club for children 4-12
Tennis court
Sports Bar
Meeting room
Boutique
Air conditioning


Restaurants & Bars
Celebrating culinary traditions from Mexico to Italy and points in between, The Reef's three restaurants and eateries offer flavorful regional and international cuisine in captivating settings.
Miramar. Overlooking the Caribbean, our main buffet restaurant serves breakfast, lunch and dinner. Dress code: Not allowed to be wet, without a shirt or barefoot. Open 6:30 am - 11 am, 12:30 pm - 3 pm and 6:30 pm - 10:30 pm.
Sabor Latino. This elegant restaurant serves an a la carte menu inspired by the culinary traditions of Mexico. $6 surcharge (free with superior and premium room). Dress code: Not allowed to wear sandals, pool clothes, hats or shirts without sleeves. Surcharge with standard room. Open 6:30 am - 10:30 pm.
Rosinella. A romantic restaurant with views of Cozumel, Rosinella serves Italian specialties with a tropical twist. Open 6:30 am - 10:30 pm.
Whether you're sipping a frosty tropical cocktail at the swim-up pool bar or savoring a night cap in the Lobby Bar, The Reef's sociable bartenders charm guests with their top-notch service and skill.

Sports Bar. Ocean view sports bar. Open 6:30 pm - 2 am.
Bar & Mar Lounge Bar. Our newest and most exclusive bar, luxurious Bar & Mar pairs a beachfront location with music, A/C & flat screens available and premium-branded cocktails. Access with your Premium level accommodations or purchase a Premium Bracelet. Surcharge for standard and superior room. Open 12 pm - 12 am.
Azul 48. Our thatched-roof swim-up pool bar serves a thirst-quenching array of cocktails, beer and non-alcoholic beverages. Open 11 am - 10 pm.
El Palmar Snack Bar. This relaxing poolside spot serves drinks and snacks. Open 11 am - 7 pm & 10:30 pm - 2 am.
Lobby Bar. Stop by the delightfully tranquil Lobby Bar for big band tunes and evening cocktails. Open 6:30 pm - 12 pm, Tea Time: 4 pm - 5:30 pm.
Location The Reef Coco Beach
The Reef Coco Beach hotel is located in North Coast S.N. Lot 1 block 7, region 6 Playa del Carmen, Quintana Roo.
Photo Gallery The Reef Coco Beach