Bellavista Tower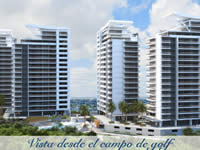 Designed by the celebrated architect Aaron Cappon, the Bella Vista Towers embody the unique lifestyle of an ocean front resort community.
Just 238 condominiums built in 19 floors are destined to share the unique features in this modern high rise residence.
Bellavista towers its located Just 20 minutes from the airport, 20 minutes from the center of the Hotel Zone and walking distance to the Beach.

Bella Vista is ideally situated at the entrance of Puerto Cancun, bordering the 18 hole Tom Weiskopf designed golf course.
There are condos of 2 and 3 bedrooms and penthouses.
Amenities

• Infinity Pool and outdoor Jacuzzi
• Two Tennis Courts
• Gated Residents entrance separate service entrance
• Underground Parking
• Visitors Parking
• Storage facilities
• Motor Lobby with Valet service
• State of the art health club with aerobics & weights
• Spa, sauna, steam room, men's & women bathroom, hot & cold Jacuzzi
• Treatment rooms
• Community room
• Beach Club
• Ocean views
• Golf course
• Wi-Fi "Hot Spots"
• 24 - hour security
• Laundry Room
• Large Terrace with ocean views
• Walk-in closet
• Maids Quarters with separate entrance
• Porcelain flooring
• Granite counter tops
• Open floor plans maximizing views
• HurPaq`sricane proof construction

Residence Features
• Laundry Rooms
• Large Terrace with ocean views
• Walk-in closet
• Maids Quarters with separate entrance
• Luxurious Porcelain flooring
• Granite counter tops
• Open floor plans maximizing views
• Hurricane proof construction
The Bella Vista Towers are offering the opportunity to own a condominium, and have access to the amenities of Puerto Cancun as an owner, by only paying a fraction of the cost.

Condominium fractionals are one of the fastest growing trends in the vacation real estate market. You as an owner purchase 25% of the owning rights to a condominium which allows three months of usage every year. By owing a fractional, the overall cost of owning a second home or condominium becomes considerably less expensive but also gives you the ownership rights you would expect as a full time owner.

The fractions are divided into four individual seasons starting with Winter and continuing with Summer, Fall, and Spring.
Faq`s
These frequently asked questions below have been designed to provide the information needed to understand what you need to purchase real estate in Mexico with confidence.
Can Foreigners own real estate in Mexico?
Americans and other non-residents of Mexico may purchase and obtain ownership of property in Mexico, without any restrictions other than those imposed on Mexican residents outside of the "restricted zone". The "restricted zone" is defined as any land within 62 miles of Mexico's borders and within 31 miles of the Mexican coast. Cancun is located within this zone and therefore there is a different way to own. In the restricted zones there are two ways to own - form a Mexican corporation (which can be 100% foreign-owned) or, in case of residential property, set up a real estate trust (called a fideicomiso), which is a form of bank trust that is specifically used to help foreigners own real estate.
What is a Fideicomiso (fee-day-co-me-so)?
It is a real estate trust - the initial term of which is 50 years -- similar in concept to trusts set up in the United States. Under this type of trust, a Mexican bank must be designated as the trustee and as such, holds legal title to the property and is owner of record. But it is important to know that beneficial use is held by the property buyer. The beneficial owner may enjoy the unrestricted use of the property, including the right to reside on the property, sell the property, rent/lease the property, improve the property, etc. For all intents and purposes a fideicomiso grants the same rights and obligations regarding land ownership as those enjoyed by Mexican citizens. Another very important point is that while the bank holds title, the fideicomiso does not become a part of the banks assets and can not be attached by a bank creditor. The costs for establishing a fideicomiso are relatively modestÉ, approximately $1200. The trustee (the Fiduciario) also charges a yearly administration fee which, in practice, is not very high (usually $250-$750 per annum). You can choose from various banks in Mexico, some of which have ties to the United States and Europe such as Banamex (related with Citi Bank) and Scotia Bank (from Europe).

What happens after the 50 years expire on the Fideicomiso?
The fideicomiso can be renewed indefinitely, enabling the property owner to obtain long-term control over the property. If the beneficial owner dies anytime during the 50 years of a trust period, a named substitute beneficiary (a list of beneficiaries can be submitted) will receive all of the rights and obligations that arise from the trust contract.
Can I Get Title Insurance?
Yes, title insurance has been available in Mexico since 1993 and can be purchased from familiar names of companies from the United States. Bella Vista will be using Stewart Title Insurance which has offices located in the Cancun-Riviera Maya area.
Image Gallery Bellavista Tower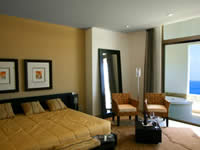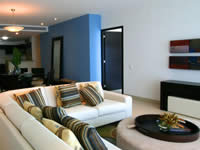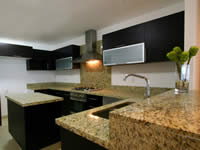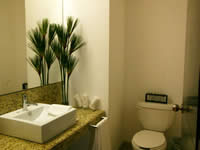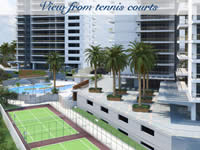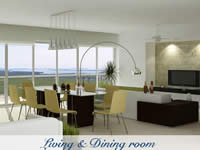 ---