Hotel Tierra Maya
Tierra Maya is a small, privately-owned and operated hotel & resort located 2 km North of the fishing village of Xcalak only 54 km South of the seaport, Mahahual. The second largest coral reef in the world, the Palancar Reef, lures you to its rich sea life and its beauty and all just beyond our pier. The warm Caribbean waters, the reefs, the abundant coral heads and nearby Chinchorro Banks attract divers, snorkelers and sightseers.
Rate From $75 USD per night

View Rooms & Rates
The world-renown flats attract fly fishing for bone fish, permit, and tarpon and the breathtaking coastline views feature a land of ancient forests, where shades of green are backed brilliantly by the azure sky and the Caribbean Sea. Nestled among tropical trees and exotic greenery, Hotel Tierra Maya in Xcalak, Mexico creates the perfect union of luxury and casual beachfront living; a place where the sand and the sea hold hands.
The Hotel Tierra Maya is a self sustaining resort facility with most of its electrical power derived from the sun. Through an array of solar panels, a 24V battery system, and an inverter, 110V electricity is generated on a 24 hour basis. Two diesel-powered generators are coupled to the system to assure uninterrupted service.As is the case in many areas of the world, fresh water is a rare commodity in our region and we depend upon the rain, which is collected on the roofs of our buildings and channeled into an underground cistern.
Rooms & Rates Hotel Tierra Maya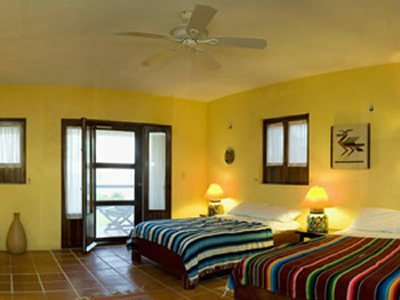 Room
Nov 1 - Dec 14
January 6 - March 30
April 6 - May 31
Mar 31 - Apr 5
Easter Week
Dec 15 - Jan 5
Christmas/New Year
June 1 - Oct 31

Standard Beachfront Room
Double Occupancy
[two persons]

$85.00
$95.00
$75.00

Luxury Beachfront Room
Double Occupancy
[two persons]

$ 95.00
$105.00
$ 85.00

Luxury
Beachfront Apartment Occupancy
[up to four persons]

$150.00
$165.00
$135.00

Studio Off-the-beach Apartment
Double Occupancy
[two persons]

$ 85.00
$ 95.00
$ 75.00

Additional Guests

$20.00
$20.00
$20.00
Rates quoted above include Continental Buffet Breakfast in our beach restaurant, as well as free use of bicycles, snorkel gear and ocean kayaks.
Prices given are in US dollars and are subject to change without notice.
Phone service is available to our guests; $2.50 per minute for long distance to the US.
Internet access available through a satellite hook-up; $5.00 for 20 minutes.
Gratuities are not included.
VISA and MASTERCARD are accepted for room charges only.
Restaurant charges must be paid with Mexican Pesos or US dollars
Rooms Hotel Tierra Maya
All rooms have private balconies facing the ocean and are equipped with variable speed ceiling fans and purified water is provided in each room. Our Standard rooms are set with one queen size bed or double bed with one single bed. The LUX rooms are somewhat larger, offering at least two beds and a small refrigerator. Daily maid service is provided with each room. Air conditioning is available in our LUX rooms at an additional charge of $15.00 per night, per room
Facilities Hotel Tierra Maya
Restaurant Bar
Car Rental
Wedding Facilities
Spa
beach Club
Pool
Photo Gallery Hotel Hotel Tierra Maya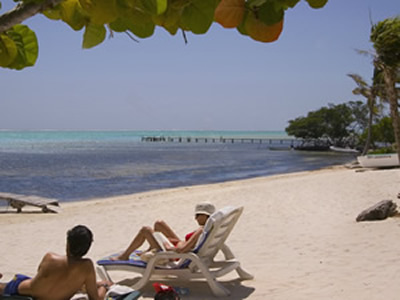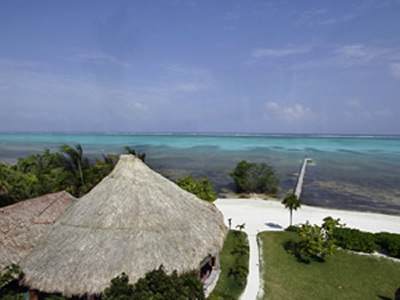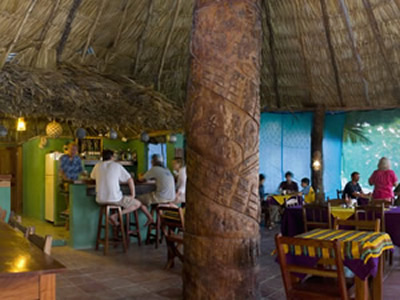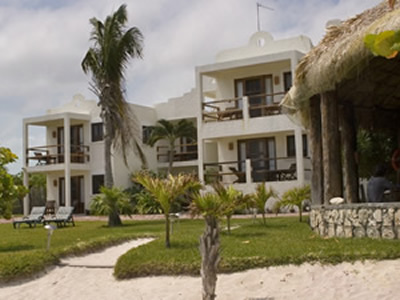 Cancelation Policies Hotel Tierra Maya
1/2 of your entire reservation is charged and processed at the time your reservation is made and the deposit amount is non-refundable
The balance of your reservation is due upon arrival
Changes to arrival and departure dates are often not possible after reservations are made
No refunds on early departure
Mastercard and Visa cards are accepted for room charges only
Restaurant charges are to be paid in Mexican Pesos
Tierra Maya does not honor traveler's checks
If you have any questions regarding our policies, please inquire BEFORE making your reservation
---