Hotel Balamku Inn
Balamku is a new concept of ecological hotel in the Costa Maya region of Yucatan peninsula, just south of a little fishing village, Mahahual in a natural, unspoiled environment with a community of friendly people.
Rate From $70 USD per night

View Rooms & Rates
At Balamku, we have created a beautiful setting that respects the natural surroundings and provides an atmosphere of  comfort and luxury. Our respect for the environment, focus on ecotourism and intimate surroundings, will suit travelers who want a change from the large resorts.
Whether you like snorkeling and scuba diving (just off our shore and also at the world-famous Chinchorro Reef), kayaking, deep sea fishing, horseback riding, birding and hiking,  investigating Mayan ruins, or just taking it easy, your time at Balamku will be relaxed and as diverse as you want. 
Balamku can easily accommodate groups  who would like to reserve the inn for their private use. It is  perfect for  retreats.
Rooms & Rates Hotel Balamku Inn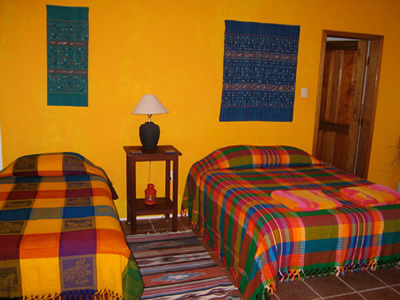 | | | | | |
| --- | --- | --- | --- | --- |
| | High Season | Medium Season | Low Season | Special Season |
| Double occupacy | 95 USD | 85 USD | 80 USD | 115 USD |
| Single occupacy | 85 USD | 75 USD | 70 USD | |
| Children under 3 years | 10 usd | 10 usd | 10 usd | 10 usd |
| Extra Person | 15 USD | 15 USD | 15 USD | 15 USD |
High Season: Jan 7- 13-Abril / Dec 1- 15
Medium Season: May -Aug 31
Low Season: Sept - Nov 30
Special Season: Dec 15 2014 - Jan 06 2015
Children older than 3 years.10 USD.The Christmas rates: Dec 15 Jan 6: 115 US double occupancy. $15 usd for extra person
APARTMENT SUPPLY 26USD FOR THE THIRD PERSON
Rooms Hotel Balamku Inn
We know you'll appreciate the comforts of fine linens and towels as well as the tastefully decorated furnishings that feature Mayan art. All units have bathrooms with showers,hot water, biodegradable soap and shampoo, 24 hour electricity, beautifully tiled floors, one queen and one single bed, coffee makers, ceiling fans and the luxurious feeling of 10' ceilings.
Internet is available in the office for guests. We now have internet access in most rooms if you bring your own laptop. There is a small rental card fee for this service. We also have a gift shop with beautiful art and clothing. Books on the local birds and animals, as well as good novels, are here for your enjoyment. Watching videos in your room can also be arranged.
Every unit is on the beach and faces the beautiful Caribbean Sea.
Balamku's 8 rooms are all on the beach and feature private terraces overlooking the Caribbean Sea. We have 2  individual palapas and 3 two-story buildings with separate rooms upstairs and ground level.
The rooms are all similar in design and amenities: round, one queen and one single bed, fine quality linens and towels, bathrooms with showers, hot water, biodegradable soap and shampoo, bottled drinking water, 24 hour solar – wind electricity, ceiling fans, beautifully tiled floors and tastefully decorated with Mexican art. 
Facilities Hotel Balamku Inn
Restaurant Hotel Balamku Inn
BREAKFAST : We are known for our selection and quality   breakfasts       which include, fresh fruits, yogurt, juice, home-made granola and bread, a wide range of egg dishes (omelettes, Mexican pecialities, French toast,   your choice)    with bacon, ham and pancakes . Organic Chiapas coffee and special teas   are       another special treat.
LUNCH: Our light lunch menu of sandwiches, pizza or quesadillos      can be enjoyed in the dining room, on the beach  or taken   with you on a day trip.
BAR :  Beer, speciality drinks and wine are available in the afternoon along with amazing music
For dinner, our clients tell us that they enjoy trying the variety of different restaurants in and around Mahahual. Two good restaurants are a 5 minute walk from us.
We have coolers for your rooms if you wish to purchase snacks and beverages in town.
LOUNGE:  Many guests enjoy relaxing in our Lounge area where we feature a wide selection of music, books on the local birds and animals, as well as the Mayans, travel information, and our computer for client internet use in the mornings. This is the meeting space for groups to use for presentations or discussions. We also have a small GIFT SHOP with beautiful and differentMexican art, some clothing, and exquisite silver jewellery.

We have coolers for your rooms if you wish to purchase snacks and beverages in town.
Photo Gallery Hotel Balamku Inn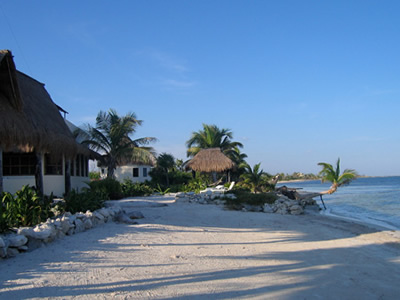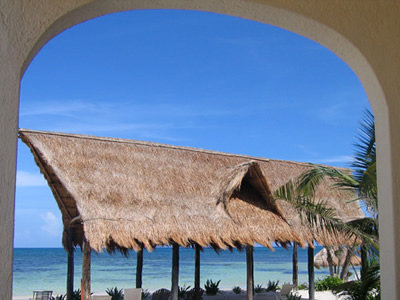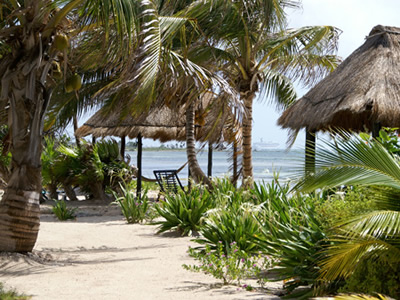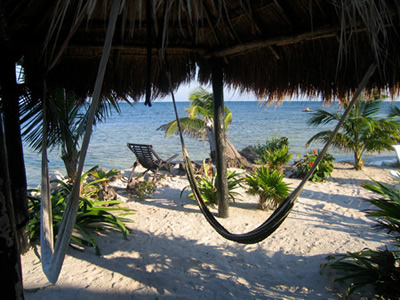 ---