Hotel Mayan Beach Garden
Located on the white beaches of the Costa Maya, Mayan Beach Garden's, beach cabanas offer a unique mixture of hospitality and seclusion that can't be found on the crowded hotel zone of Cancun or Playa del Carmen.
Rate From $86.64 USD per night

View Rooms & Rates
Mayan Beach Garden Inn is located about 20 km north of Mahahual and the neighboring Costa Maya Port, Mexico's newest cruise ship destination. We're far enough away from the crowds to provide the quiet and seclusion that you want, but close enough to the town of Mahahual and the Port of Costa Maya to take advantage of the exciting tourist industry that Mexico provides.
Rooms & Rates Hotel Mayan Beach Garden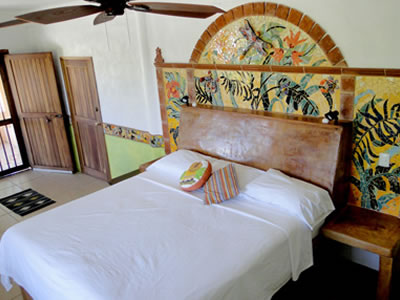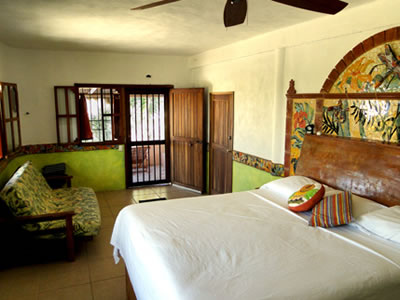 All prices include breakfast!
Beach view

Beachfront 2nd
story
Beachfront
suite
Beach Front GROUND LEVEL W/KITCHENETTE
Temporada Baja
86.64
101.46
144.78
104.88
Temporada Media
90.06
110.58
153.09
112.86
Temporada Alta
103.74
131.01
167.58
137.94
Temporada Especial
118.26
149.45
191.04
157.25
Low Season: August 16 - Nov. 14 and June
Mid Season: May 1 May 30 - July 1-Aug 15 & Nov 15 - Dec. 19
High Season: Jan 6 - April 31
Holiday Season:Dec 20 - Jan 5
Room rates include hot breakfast with coffee, juice and fresh fruit. For an additional $20.75 per person you can add on lunch and dinner. Meals are also available on a per-meal basis.
Breakfast included, All Prices USD, tax included
For rooms with A/C the rate is $25 per night extra (night only) We encourage you to try the eco-friendly caribbean breeze first (plus it is silent!) - Fans work 24 hours.
Rooms Hotel Mayan Beach Garden
Suite
We have one suite designed to accommodate up to 4 people. It is divided into two sleeping areas. The suite has a king-size bed and two singles, a sitting area with love seat and chairs inside and a large palapa covered deck outside with seating for 4.

All-inclusive meal pricing:
Most people end up eating all of their meals at Mayan Beach Garden because the food is so great! Many also like the convenience of an "all-inclusive" pricing for meals and not having to carry too much extra cash with them. With that in mind, we have created convenient pricing for those who like that option
For only $17 per person per day, you can take advantage of our all-inclusive meal package.

All meal packages Include lunch and dinner, packed lunches for day trips, iced tea or limeade for lunch and purified ice-water for dinner. Sodas and alcoholic drinks are extra. Special diets can be accommodated.

Ala cart prices average $7.50 for lunch and $13 for dinner. To take advantage of the package price, meals must be paid for in advance or at check-in.

Unfortunately we can't "mix and match" ALA-cart and meal packages
Our cabana packages include the following:
Palapa covered deck with deck chairs and hammocks
Bottled in-room water dispensers safe for drinking
Daily maid service
Solar powered lights, hot water and ceiling fans
Private bathrooms with large walk-in showers, Mexican tile floors and hand
painted Mexican sinks
Towels
Full breakfast (Breakfast can also be purchased if staying at the Beachfront homes)
Optional pre-paid gourmet meals from the Mayan Beach Garden menu of the day (sodas and drinks extra)
Optional laundry service
Optional Wireless Internet
Complementary use of Kayaks
Unlike many Hotels and Inns, there currently are no minimum stays in the Cabanas (some rules apply), however the beach front homes all have minimum stays of 5 days. Other homes coming soon! If you don't see what you want, please ask about our new properties not yet listed on the website.
The owners of Mayan Beach Garden have created a unique boutique hotel and Inn on the Costa Maya, patterned after secluded hotels in other parts of the world with a fabulous restaurant and personalized service.
The restaurant at Mayan Beach Garden features a daily set menu that is selected to appeal to a wide variety of tastes. We use fresh ingredients, and serve primarily Mexican food mixing it up with a touch of Italian, Pan-Asian, Caribbean and American. We provide both local Mayan recipes from the Yucatan and those from other areas of Mexico.
When you make reservations, please communicate particular likes and dislikes and dietary restrictions and we will try our utmost to accommodate your needs in advance.
Experience the Costa Maya at Mayan Beach Garden, it's a vacation you will always remember
We currently have 5 all-solar powered cabanas, a cabana suite and 3 Beachfront homes for rent. All cabanas have full beach views and large private palapa covered decks.
Room rates include a full breakfast with coffee, juice and fresh fruit. For
an additional $15 per person you can add on lunch and dinner. (see sample menus)
Recipes
Breads
Breakfast
Desserts
Main Dishes
Salads
Soups
Salsas
Menus
Sample Menus
Vegetarian menus
Kid-friendly menus
Low-carb menus (slightly higher price)
Special dietary requests
Room rates include a hot breakfast with coffee, juice and fresh fruit. For an additional $17 per person you can add on lunch and dinner. Meals are also available on a per-meal basis. 
Facilities Hotel Mayan Beach Garden
Palapa
Bottledin-room
Daily maid service
Solar
Private Bathroom
Painted Mexican Sink
Towels
Full Breakfast
Restaurant
Beach
Photo Gallery Hotel Hotel Mayan Beach Garden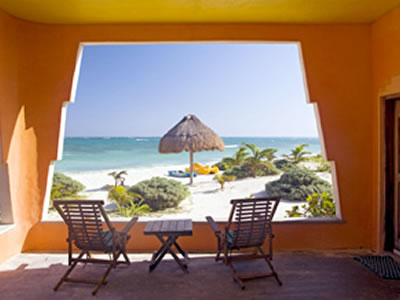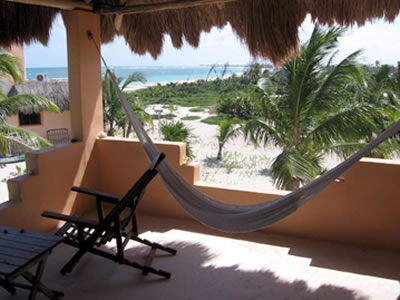 ---