Hotel Oka´an
Hotel Oka'an: integral complex.

More than just a peaceful and appealing place, Oka´an´s green campus is nestled in the midst of the mystical energy that supports transformation and initiation.
Researches agree that ancient advanced civilization such as the founders of the Egypt pyramids, machu picchu, chichen itza or teotihuacan, chose these location because they are the energy vortices in our planet.
Our goal is to support their way into consciousness, growth, purification and health visitors, providing the best quality tourism services for the awakening of consciousness through the mind, body and mind.
Rooms Hotel Oka´an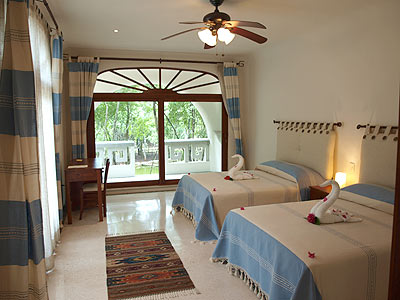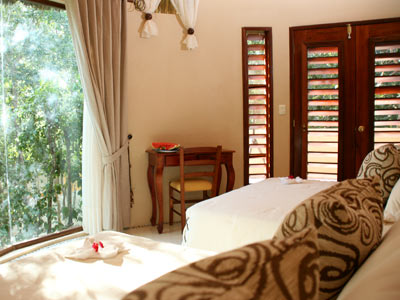 Built under the architectural guidelines of mayan temples and universities, the concept of comfort and convenience blends to create a high-level experience in hospitality.
The rooms are equipped with orthopedic mattresses to secure the rest, air conditioning, fans and, endless details that make your stay a unique experience.
Three types of rooms: double, suite and master suite.
Each building and cabin is separate from de other in a way that protects serenity and the feeling of communion with the jungle; at the same time, the services are close by so convenience and togetherness is not overlooked.
Services Hotel Oka´an
The services the hotel offers are:
Spa: combines the best of technology with homeopathic health techniques and healing Mayan wisdom.
The spa counts with state of the art equipment for treatments for colon hydrotherapy; ozone therapy; lymphatic drainage and body cleaning; hyperthermia (cell renegeration treatment); placenta implants (anti aging cell therapy).
Temazcal: deep purification of the spirit, body, mind and emotions. The benefits are abundant. In this type of ritualistic sweatlodge the direction is carried put by a guide of Temazcal who uses different techniques like aromatherapy, medicinal plants, songs, musical instruments, visualizations and silence.
Added to this, the hotel also offers
Oka'an
large gardens, swimming pool, architectural design and cuisine.
Location Hotel Oka´an
Oka´an is located in the jungle of
chichen itza
, near the mysterious pyramids, it is designed to channel this powerful light energy for your benefit while providing you with a holistic experience to your mind, your spirit and your body.
Photo GalleryHotel Oka´an