Holbox Whale Shark Tour (Season)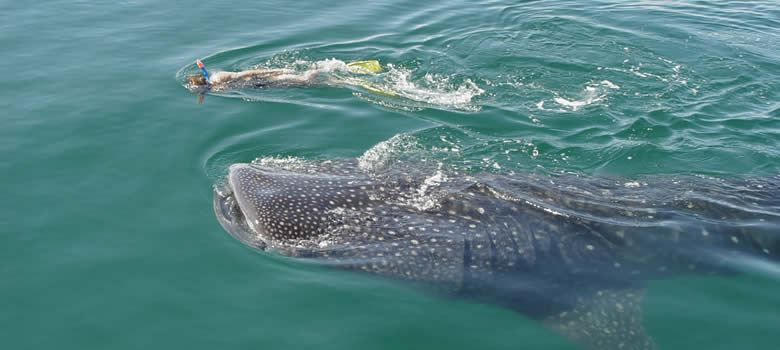 Mexican caribbean offers an aerial tour to olbox Island and swim with whale sharks departing by air from Cancun, Playa del Carmen or Cozumel.
This tour combines the option to visit the island of Holbox and take the whale shark tour departing by boat from the island.
Once arriving to the island of Holbox you will take the boat to go to the whale shark  area , we offer lunch on board with drinks on the boat.
When we reach  the area where the whales are you will admire these animals at a few  distance  from the boat and you can swim with your partner and the guide in intervals of 10 minute  swim, the other tourists traveling on the boat with you will have he chance to swim
The boats are for  10 people maximum so you will have many opportunities to swim with the sharks and snorkel with them.
After returning to the island immediately we take a flight back to your destination.
The approximate total time of this tour is 9 hours.
Price includes:
Transportation round trip in a private flight cessna aircraft 
Snorkel equipment 
Box lunch 
Guide 
Lunch in holbox 
Passenger insurance
From playa del carmen
| | |
| --- | --- |
| Persons | Rates per persons |
| 2 Pax | $ 515 usd |
| 3 Pax | $ 370 usd |
| 4 Pax | $ 318 usd |
| 5 Pax | $ 278 usd |
| 6 Pax | $ 265 usd |
Airport tax not included: $ 5.00 per person - Out: 7: 15 am - departure time from holbox: 2: 30 pm 
From cancun
| | |
| --- | --- |
| Persons | Rates per persons |
| 2 Pax | $ 383 usd |
| 3 Pax | $ 300 usd |
| 4 Pax | $ 260 usd |
| 5 Pax | $ 235 usd |
Airport tax not included: $ 20 dollars per person in the cancun airport - Out: 7: 30 am - departure from holbox: 2: 30 pm
From cozumel
| | |
| --- | --- |
| Persons | Rates per persons |
| 2 Pax | $ 595 usd |
| 3 Pax | $ 445 usd |
| 4 Pax | $ 370 usd |
| 5 Pax | $ 325 usd |
| 6 Pax | $ 309 usd |
Airport tax not included: $ 28 dollars per person - Out: 7: 30 am - departure from holbox: 2: 30 pm
Image Gallery Swim with Whale Shark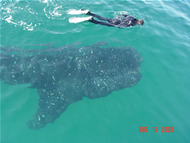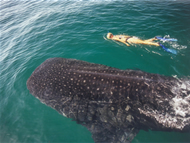 ---