Airport of Playa del Carmen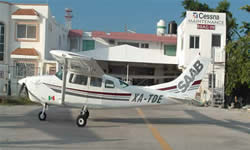 In Playa del Carmen is located an airport for small cesna  planes and medium airplanes. The Playa del carmen airport is operating throughout the day than at night.
Passengers must pay a tax to use the airport when they flight and the rates might change depending to the place where you are going . There are  no commercial flights from Playa del Carmen but it is possible to use this airport for travel by plane to Merida, Chichen Itza, Holbox, Cozumel, Isla Mujeres, Palenque, Mahaual, Chetumal, Campeche and Xcalak in cesna airplanes.
At the airport in Playa del Carmen is located the first airline in the city, Aerosaab, which offers tours on a private plane to  Chichen Itza, Merida & Uxmal, Holbox island and  scenic flights to the Riviera Maya.

To see aerial tours from Playa del Carmen can view this page:
Do not wait, book your hotel now in Playa del Carmen