Restaurant Ojo de Agua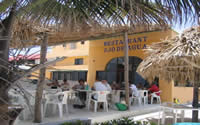 If you are lookingthe best place to eat fresh seafood in the best beach of Puerto Morelos, the place is the restaurant of the Hotel "Ojo de Agua". Enjoy a beautifull view of the best beach of Puerto Morelos accompanied by your favorite beer ortropical drinks.the delicious fishes that you enjoy in this restaurant are fresh of the fishing of the day, enjoyed their exquisite flavor like in any restaurant in the town. Some of our menu selections are: Ceviches of snail, fresh Fish andshrimp.
Fresh fried fish, or with butter grilled or with garlic, Spicy fish mexican way, Lobster, with butter, rilled, or garlic, Snaks, salads, fajitas, chiken and steaks.
RESERVATIONS AND INFORMATION:
Phone: ( 998) 871-05-07
Image Gallery Restaurant Ojo de Agua