John Gray Kitchen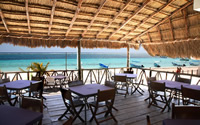 Located off the beaten path, in the sleepy little beach town of Puerto Morelos (in between Cancun and Playa del Carmen), John Gray's first and signature restaurant offers diners the opportunity to feel as if they are dining in Gray's own home.  In fact, the two-story building is nestled in a neighborhood of purposely, modest homes and typical Mexican restaurants just blocks away from the beach.  Lucky diners will know that they have found "the Kitchen" when they see the iron-stenciled sign "John Gray's Kitchen" presiding above a gravel driveway surrounded by a beautifully, landscaped garden. Owner John Gray designed the building's interior and exterior to be reminiscent of a cozy, European bistro.
Open daily from 6:30 PM to 11:00 PM
As such, he offers guests an experience full of intimacy, perfected by optimal lighting; a well appointed neighborhood bar; warm color scheme; San Francisco, CA-inspired bay windows and arched view into the open kitchen. A unique piece of art greets guests as they walk into the restaurant – what has now become the John Gray Restaurant Group's logo, a drawing of "A Melting Clock." The design was spontaneously offered to Gray by a visiting German tattoo artist, who pronounced that the drawing should be painted on what was then a plain, gray wall – that in fact resembles a canvas. The Kitchen is a true culinary destination and a gem of a find in Riviera Maya.
RESERVATIONS AND INFORMATION:
Phone ( 998 848-78-00
Hyatt Cancun Caribe
Blvd. Kukulcán Km 10.5
Hotel Zone
Image Gallery John Gray Kitchen