Coco Bongo Playa del Carmen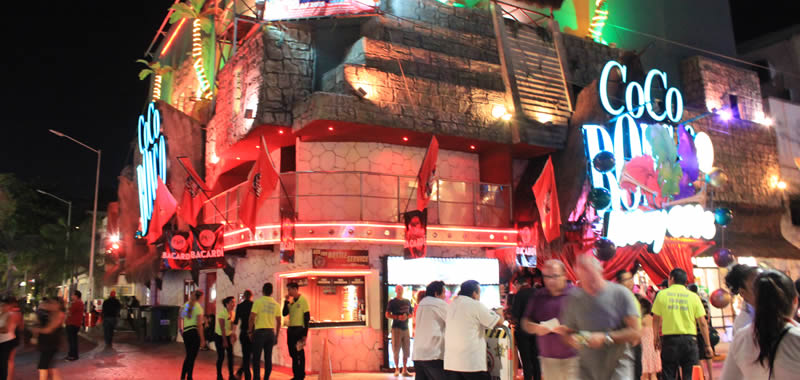 If you are coming to visit the idyllic land of Cancun Quintana Roo Mexico and more than a quiet holiday you want fun, adrenaline and especially lots of action. You can be sure to come to the right place, because the nightlife in Cancun is the most intense not only in Mexico and the Caribbean, but worldwide. Cancun is a tourist center on the first level and you can find places of interest and fun to visit. Right in the middle of the fun of Cancun and tranquility of the Riviera Maya, Playa del Carmen is located, making it the ideal blend between the two great attractions Quintana Roo.
Playa del Carmen is where the two worlds of relaxation and the fun, in this way can be found here own massage centers of the Mayan Riviera and Cancun night disc. So, Playa del Carmen also has an area of nightclubs, located on 5th Avenue, but certainly one of the places not to be missed is the famous nightclub Coco Bongo.
Considered the core of nightclubs in Cancun Coco Bongo has high production of shows, excellent music selection and advanced technology, which make each night a unique experience. Multilevel design allows each viewer to enjoy the shows from anywhere in the place. Every night Coco Bongo create the best party on the planet with its atmosphere, acrobatic acts, shows, the service and the details that distinguish this place from others. It has excellent shows based on imitations of famous artists such as KISS, The Mask, Beetlejuice, Madonna, Spider Man, among others. Part of the success of this club in cancun is clearly due to its excellent shows.
In Coco Bongo it is indistinguishable, all people come to have fun no matter whether they are foreign nationals, male, female or if they speak another language. All share the same characteristic, have fun. Part of the technology that gives this album the importance of dealing with the use of high resolution screens, bubble machines and confetti, balloons and more. Undoubtedly Coco Bongo creates an unparalleled party atmosphere that the audience will remember forever, because of this, it is no wonder that those who visit this place, available to return as soon as you can to revive again into the most fun who ever lived.

Hotels in Playa del Carmen