Transportation to Isla Mujeres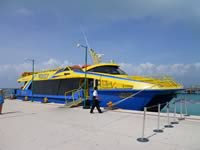 To get to Isla Mujeres if you are coming by air you have to fly to Cancun airport.

The point where the ferries depart to Isla Mujeres is Puerto Juarez in the ultramar terminal.
From this terminal runs every 30 minutes ferrys to Isla Mujeres and from Isla Mujeres to Puerto Juarez.
Cancun Airport to Puerto Juarez is 30 minutes away.

If you come in your car and want to cross by car to the island you have to go to Punta Sam terminal which is 10 minutes ahead of Puerto Juarez. The car ferry departures are not as frequent as passenger ferry
The shuttle service from Cancun Airport to Puerto Juarez in a private van with air conditioning cost $ 35 for the complete vehicle and holds up to 8 people.

To book a shuttle service to Puerto Juarez must complete the booking form with all your flight info, you will be instructed to pay by credit card and you will receive a confirmation coupon by email with all details for the airport pick up.