Garrafon Natural Reef Park - The South Cliff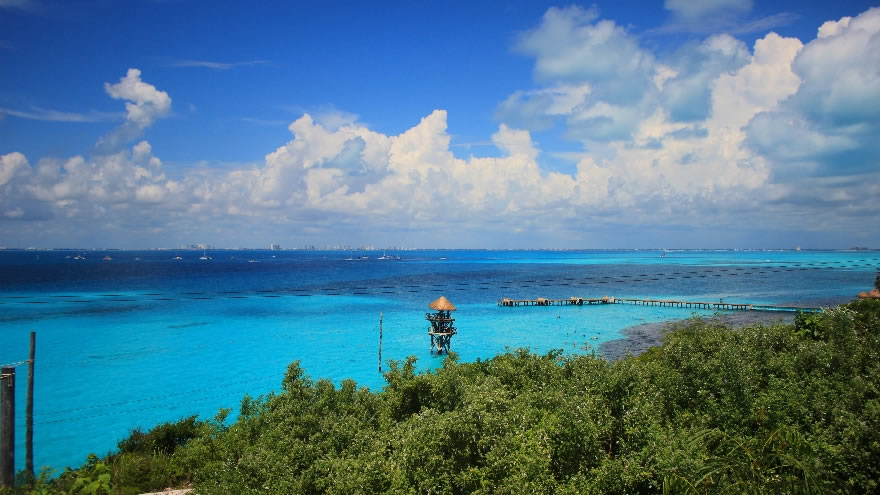 Garrafon Natural Reef Park, ideally located on charming Isla Mujeres Mexico, will amaze you with its natural beauties and fascinating adventures in and out of the water. This exotic tropical paradise is a 25 min. cruise from Cancun, Quintana Roo, in Isla Mujeres Mexico.
Thrill to the best Snorkeling Adventure, at Garrafon Reef, one of the most stunning reefs in the world. Kayak rides, Scuba Diving, underwater strolls, Zip line flights and Caribbean Bungee jumping are just a few of the activities that you will enjoy in Isla Mujeres.
As you land in Garrafon Natural Park and see its magnificent natural surroudings, you will know that you have arrived to an aquatic tropical paradise beyond compare. The distinctive turquoise and crystal clear waters of the Caribbean Sea and one of the most beautiful coral reefs in the world, have made Garrafon the perfect place to practice diverse aquatic activities as Snorkelingand Scuba Diving.

Its transparent and soft currents are ideal for innovative underwater experiences as Sea Trek and Snuba. These activities allow even those who don't swim, to fully enjoy the underwater splendor of Garrafon. Preserving the extraordinary diversity and beauty of the coral reef ecosystems is Garrafon's main concern. Help us protect the coral reef!

Wear only biodegradable sunscreens o suntan lotions (you can find them at the park's gift shops).
Use a life vest in all the aquatic activities that require it. For your own protection and that of the reef. (Included in your admission).
Follow the instructions of our aquatic guides.
Respect the areas protected by buoys.
ATTENTION GARRAFON VISITORS OF THE MARINE PARK  
It is important to mention that every visitor who makes use of the marine park, has to pay a fee of $ 2.00 USD for the "use and enjoyment of natural protected areas", according to the Article 198 of the Mexican Federal Law.

Snorkeling - Discover the beauty of one of the most amazing coral reefs, practicing the best Snorkeling in GarrafСn Natural Park at Isla Mujeres...

Snuba - Diving has never been so easy! Discover the magnificent depths of the Mayan Caribbean without having to carry a heavy tank on your back, and with no special certifications or diving experience required...

Sea Trek - Another excellent option to experience Garrafons marine life is Sea Trek. You will enjoy this incredible underwater world with a special helmet that provides you with compressed air and allows you to freely walk around the bottom of the Mexican Caribbean...

Scuba Diving - Be captivated by the magical underwater scenery of the Mayan reefs! Come with us and explore the spectacular Manchones reef, just a 5 minutes boat ride from Garrafon...
Kayaks: If you are ready for a little ecotourism adventure during your vacation in the Yucatan Peninsula, there is nothing better than our kayaks to make you feel as a true explorer...
Zipline: Feel the freedom and excitement of flying over the clearest waters of the Mexican Caribbean in our Zip Line. An extreme cable ride adventure. Get your harness on and dare to take that step into a thrilling experience. Feel the adrenaline as you fly a total of 1,180 ft over Isla Mujeres' natural beauties.

The Zip Line is the favorite adventure sport among our visitors at arrafon, who really enjoy the thrill of sliding at high speeds from one tower to another, using a system of steel cables and pulleys. There are three towers from where you can slide at a maximum height of 100 ft above the sea level.  In the longest ride you will cover a distance of 443 ft, reaching a 31 mph speed.

One of our guides will be waiting for you on each platform, to let you know when to slow down or when to enjoy the full speed of the Zip Line. Garrafon will provide you with the best equipment and assistance to feel totally safe during this activity. Due to the great success of our Zip Line, we have recently inaugurated a new Zip Line course. You will glide a total of 804 ft towards Punta Sur, to finish this thrilling adventure at the Cave of Silence. Don't miss it!
Hotels in Isla Mujeres
Image Gallery Garrafon Park
Video of Garrafón Adventure Park