Isla Mujeres Carnival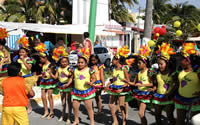 The Carnival of Isla Mujeres is one of the most important holidays of the year like Cancun, is celebrated in February every year and there are parades with multicolored costumes where locals dance and play all day. Parade premises are play by adults and children. Tourists enjoy seeing the parade of the island
Along the Avenida Rueda Medina carried out the traditional parade set for several days in both the morning and evening.
The beer brand sponsors organize parties on the beach with live music, there are food restaurants, crafts, souvenirs and much more.

Do not wait, book your hotel now in Isla Mujeres