Diving Isla Mujeres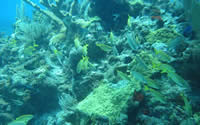 Located 25 minutes by boat at a depth of 70 feet/ 25 meters, with urrent (advanced divers). A very exciting dive is waiting for you in this navy boat. Almost all the dive is inside the boat, where you can explore it from the bathrooms to the office, passing by the guns and, getting surprised by amberjacks and stingrays that love to play "hide and seek".
Reef Manchones
At only 10 minutes by boat, at a depth of 45 feet/15 meters, you can find the 1 km long coral reef called Manchones. This is one of the best dive sites for all level divers, full of many schools of colorful tropical fish and corals
Reef Media Luna
On the Caribbean side of the island, at a depth of 40 feet/ 12 meters, you will find a wonderful reef very near the surface and where you will be constantly diving up and down and through its channels, arches and bridges, and admire its wonderful variety of Coral, as well as Lobsters and Shrimp. Also in its two caves you will find Sharks, Jewfish, Groupers and other big fish.
Reef Puentes y Pailas
Only 5 minutes by boat at a depth of 40 feet/12 meters, you will find a delightful coral reef that has many caves, with a considerable variety and quantity of fish such as: big Barracudas, Grey Nurse Sharks, Turtles, Blue and Green Parrot fish, Grunts, Porcupine, Jurels, Yellowjacks, Snappers, Midnight Parrot fish, Lobsters, Shrimp, Starfish, as well as a great variety of soft corals
Reef Piedra Atravezada
At 30 minutes by boat, 60 - 70 feet/20 meters deep, you will find a huge reef full of colorful coral and great varieties of fish like Jurel, Mantas, Jewfish, Scorpion Fish, Spiders, Octopus, Starfish, Lobsters and Parrot Fish.
Reef Piedra Negra
After a ride of 25 minutes by boat, you will get to one of the most suggested diving locations. At a depth of 70 feet/21 meters and with little current, there is the beginning of the second longest coral barrier in the world. To make the description shorter we will say that all kinds of Caribbean fish and coral are found there!
Reef Punta South
15 minutes by boat, at the South end of the island, enjoy a real drift-dive. Swim with dolphins and giant turtles which often delight the place. Dive in small caves and admire a 400 year old spanish anchor.
Reef
2 tank dive at the colorful reef. 30-50 ft./10-16m deep, safe and easy.
$56.00 US Daily 8:30 a.m. - 1:00 p.m
Adventure
2 tank dive - choose 2 of the 3 options
$78.00 US Daily 8:00 a.m. 1:00 p.m.
Option A:
Gunboat 58 Shipwreck 89 ft./27m deep
Grampin 70 ft. /21m deep
Punta Negra 70 ft./21m deep
Option B
La Iglesia 55 ft./17m deep
No Name 60 ft./18m deep
Gunboat 55 Shipwreck 90 ft./27m deep
Option C
Sleeping Shark Cave 75 ft./23m deep
Piedra Atravesada 70 ft./21m deep
Hondureño Shipwreck 70 ft./21m deep
Image Gallery Diving Isla Mujeres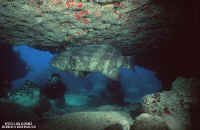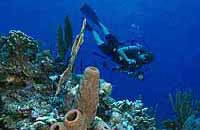 ---