Activities in Isla Mujeres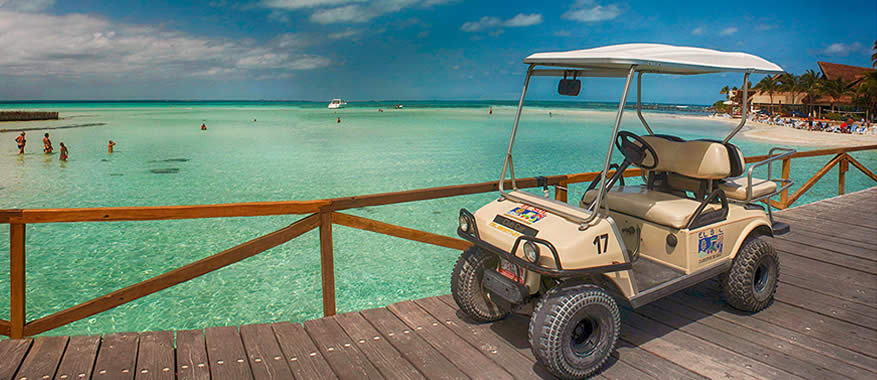 In Isla Mujeres you can perform activities such as fishing , sailing on a yacht , swimming with dolphins in pirate village that is located south of the island , you can also go to the tour contoy which is the protected nature reserve of birds and many marine life, there is the  whale shark  swimming tour during   the months from May to September and the tour for diving  with barracudas in the winter season .

Other activities in North Beach  that you can find are  jet ski rentals, kayaks and boats.

The traditional tour is to rent a golf cart and turn around the island admiring spectacular views and can stop at the National Park  to snorkel and enjoy a good meal. Also renting a golf cart you can stop at the hacienda mundaca or at Lancheros  beach where are the sleeping  sharks. Finally visit the turtle farm museum where are species such as turtles , lobsters and other marine species.
At night there are many small restaurants and bars along the main street where you can enjoy the most varied food and music.

Undergo the experience of a lifetime as you swim and interact with the dolphins.

Located 25 minutes by boat at a depth of 70 feet/ 25 meters, with urrent (advanced divers). A very exciting dive is waiting for you in this navy boat.

Yacht for rent Sea Ray, model Sundancer 46 feet, Capacity 18 people, Facilities: Water, 2 bathrooms with shower. 

Contoy is a small tropical island in the middle of the tranquil urquoise waters of the sea of the Yucatan Peninsula.

At only 10 minutes by boat, at a depth of 45 feet/15 meters, you can find the 1 km long coral reef called Manchones.

The whale shark swim tour is one of the most popular in the Mexican Caribbean. It is a tour that operates only during the season from May 16 to September 16.