Yalahao Lagoon - Eye Water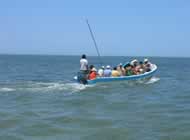 This is a natural eye of water located 30 minutes by boat from holbox island, its was used as a refuge for the famous pirate named Molas in the XVI century. For many years was a natural fresh water source for the holbox community.


Now become a natural place to be admired by the tourists that visit this area to swim and enjoy the clear and fresh waters of this place.
Image Gallery Yalahao Lagoon - Eye Water