Cancun Messe Convention Center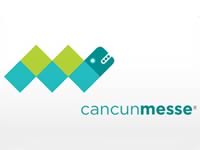 Located 10 miles from Cancun International Airport Mexico and built on an area of 14 acres, born Cancun Messe Fairgrounds, making the city of Cancun and Riviera Maya in the number one business destination in Latin America. Born with the philosophy of being a Socially Responsible and friendly to the environment, have adapted water saving systems, models of funding through the rain, endemic botanical gardens, dumps specially designed for the removal of trash and models effective wind power, these being just some of the great contributions to the fairgrounds shows its visitors, placing Cancun Messe in perfect harmony with nature.
Cancun Messe was opened within the framework of the V edition of the Latin American Food Show (LAFS), thus initiating its history to become the most important window to take Mexico to the world in a matter of fairs, exhibitions, conferences, cultural and entertainment, as well as a tourist destination that has an infrastructure of 70,000 hotel rooms and with the 2nd international airport in the country having a capacity of 28 million passengers per year, has the privilege of being located in the heart one of the most spectacular in the world, with its splendid beaches, crystal clear turquoise waters of the Caribbean Sea makes it unique, its vast archaeological heritage of ancient Mayan culture and the stunning beauty of the rainforest that is richer with the sights of the Mexican Caribbean.
All this brought him to today, to become in a business meeting point of international stature, while in 2010 managed to be one of the two seats of the Sixteenth Conference of the Parties (COP16), organized by the Organization of United Nations and the Ministry of Foreign Affairs of Mexico.

Deals on places to stay in Cancun