Le Reve Hotel and Spa
Le Rêve Hotel & Spa a luxury and modern hotel in Playa del Carmen, located at one of the most spectacular beaches of the Caribbean Sea; Combining the perfect blend of nature, tranquility, elegance and quality service, combined with its spectacular culinary delights at the Merlot Restaurant, prepared by the expert hands of our Executive Chef, make this family boutique hotel the best place to experience traditional Mexican hospitality through its all-inclusive Gourmet a la carte service.

Rate From $249 USD per night

Rooms Le Reve Hotel and Spa

Our rooms are designed with a modern regional style, which allow you to enjoy all the amenities of a large luxury hotel, with a unique, exclusive and personalized environment. Its unique landscapes, private terraces, balconies with sea views, private gardens. Our already famous Beachfront Bungalows with private plunge pools, are part of its unique charm, and are at your disposal.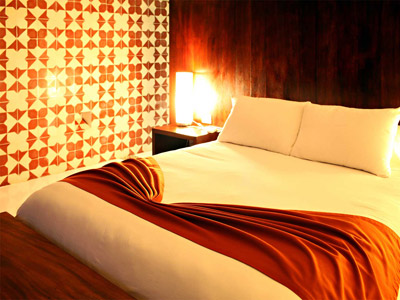 Garden View. These rooms are located on the first floor of our hotel in Playa del Carmen, at the same level lobby. They have a cozy queen size bed and handmade Mexican tiles and badges Le Rêve Hotel & Spa.
Private Garden. These rooms are located in a prime location on the ground floor, surrounded by beautiful gardens. Decorated with handmade Mexican tiles and walls characteristic of Le Rêve Hotel & Spa; This rooms featured a cozy queen size bed, private terrace with glass doors that will allow all times enjoy nature, enjoy exclusive hammock.
Pool and Horizon Ocean View. Located on the first floor of the hotel (lobby level), these rooms offer a romantic experience with the traditional charm of Mexican tiles decorated unique hand of Le Rêve Hotel & Spa. These rooms overlooking our spectacular infinity pool and the horizon of the Caribbean Sea are perfect choices to enjoy a romantic experience. Its terrace, queen size bed and amenities ensure the enjoyment of its guests.
Junior Suite. Located on the first floor of the hotel (lobby level), this suite was designed especially for families offering a maximum experience. This room allows you to sleeps in a very comfortable way to a family of four, providing within the same space necessary privacy for the convenience of all members, with two spaces, each one of the room with cable TV.
Ocean View Master Suite. The Master Suite has a truly amazing sight. This majestic suite has a private terrace with panoramic views of the infinity pool and the Caribbean Sea. This room promises that enjoy the sound of the waves, refreshing breezes and the reflection of the moonlight on the sea, creating the perfect atmosphere for a dream holiday in Riviera Maya. The room is cozy and spacious with a large comfortable bed surrounded by a delicate white pavilion, palapa roof and wooden floor. Mexican handmade wall tiles, a spacious bathroom and terrace with sliding wooden doors and glass, are some of the details that make this room a unique lodging option in Playa del Carmen.
Beach Front Swim Up Villa. The seafront private infinity pool and every little detail of this room make it a private paradise and one of the unique and most desirable lodging options in the Riviera Maya. A higher level of luxury and comfort where your dreams come true. With private terrace, pool, and spectacular ocean view. To live the high luxury vacation experience in Playa del Carmen, treat yourself to a relaxing stay in a Swim Up Beach Front Villa. The sound of the waves can be heard by the closeness and provides room that magical essence.
Air conditioning.

Bathrobes.

Double sink (Master Suite).

Direct dialing telephone.

Hair dryer.

King or Queen size bed.

Iron and ironing board on request.

Safety deposit box.

Vanity mirror.

Closet.

Private bathroom with hot water 24 hrs.

Bath amenities.

Balconies with sea view or garden view.

Room service extra service charge.

Laundry Service with extra charge.

Medical Service 24 hrs. ( extra charged apply).

Wake up call service.

Cable TV.


Facilities Le Reve Hotel and Spa
Infinity Pool.

Spa treatments (charges apply).

Private beach.

Area for Children.

Restaurant.

Bar.

Snack Bar.

Gardens.

Internet access (charges apply).

ATM.

Money exchange.

Security 24hrs.

Car rental service (charges apply).

Parking free.

Airport transportation (charges apply).

Wakeup Call.

Laundry / valet / dry cleaning service (charges apply).

Medical service (charges apply).

Babysitting service (additional fee).

Multilingual staff (English, French, Spanish, German and Italian).




Restaurants & Bars
In Playa del Carmen, Le Reve Hotel & Spa offer to you the opportunity to transform your holidays into a culinary experience through our Gourmet service à la carte, or special dinners designed for you on the beach or at the privacy of your own room and private terrace, cooking classes and wine or tequila tastings, among many other activities, will be a unique experience to remember and bring it back home, these are just some of the options that our staff can offer to create lasting memories of your holiday.
Merlot Restaurant & Bar. The main characteristic of our "Merlot" restaurant is its beautiful wine cellar with the best labels chosen for you, besides its spectacular view of the infinity pools that perspective mix with the Caribbean Sea. Our guests receive one of the best dining experiences in the region. From the hands of our executive Chef, incorporates local and international ingredients to their recipes to create a unique experience. The menu offers a wide variety of national and international dishes. Additionally the bar area has three 70" TV screens to enjoy your favorite sport, either in comfortable lounge couches or in the lovely bar.
Snack Bar. Our Snack bar is an ideal place to relax with your feet in the water. Here you can read under the shade of large trees and tropical palms or simply soak up the sun while enjoying a chilled beverage. Choose your favorite signature cocktail, or opt for a frozen colada or mixed tropical fruit juice. This bar & terrace offers a delightful selection of light bites, hamburgers, sandwiches and ceviches.
Room Service. A new type of in-room dining experience. Guests can enjoy our á la carte menu delivered in the comfort of your room or at their private terrace. The service is available between 7:00am and 10:30pm with an extra fee.


Location Le Reve Hotel and Spa
Located in the heart of the Riviera Maya, just minutes from the famous Fifth Avenue in Playa del Carmen and only 45 minutes from Cancun International Airport, which positioned at the midpoint of all tourism destinations.
Photo Gallery Le Reve Hotel and Spa