Hotel El Dorado Royale Casitas
El Dorado Casitas Royale is a haven of romance perfect combined with luxury and the  sea, as presents breathtaking views of the Caribbean Sea, this hotel has also been awarded category AAA Four Diamond. With a privileged location in an area of ​​private beach on the Riviera Maya, El Dorado Casitas Royale offer rooms with amenities for adults only and facilities to make your first time here is the best experience.
Rate From $427 USD per night

Rooms Hotel El Dorado Royale Casitas
Rest as you  want , because luxury is  expected in the room, each has been equipped with the necessary items so that nothing is missing, with an intimate and romantic setting.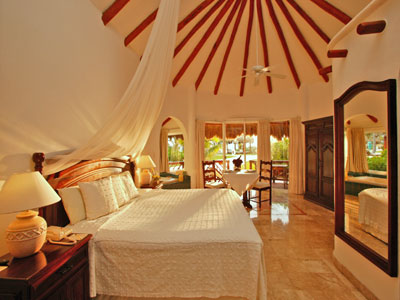 Casita Suite - Non Refundable.
In this room you will find an outdoor shower, palapa, King size bed, a full bathroom with double sinks, a Jacuzzi and a private balcony.
Presidential One Bedroom Casita Suite.
Intimate and romantic suite features a terrace where you will find a private pool, palapas and hammocks outdoors; the interior features a living room with flat screen, premium liquors, mini bar, blender and microwave.
Individual Swim Up Casita Suite.
In this room you will have direct access to the main pool, also has a separate, connecting it with the river of relaxation. Inside you will find mini bar, coffee maker and television with flat  screen.
Infinity Pool Swim Up Casita Suite.
Such a romantic suite with private swimming pool, which connects to the lazy river and the main pool. Within a king size bed, jacuzzi for two, outside shower and balcony with chairs and hammock bed.
Presidential Studio.
A suite with all the luxury that every guest deserves a select wine cellar includes four different liquors, also find a mini-bar, fruit basket and bottle of champagne.
Presidential Studio Infinity Pool Swim Up Casita.
With elements that will make you really feel a presidential treatment, since in addition to a select wine cellar with four different liquors, mini bar, fruit basket and bottle of champagne, here also feature private butler service and a private pool also connecting to the lazy river.
Casita Suite.
Here you will find a private balcony with a double bed and breakfast for two people; into a king size bed, mini bar, coffee maker and cable satellite television.
Individual Casita Suite.
These rooms are located in a secluded building from the noise, so that privacy is the main element, upon entering you will find a king size bed, a large private balcony, jacuzzi, bathrobes and outdoor shower.
Facilities Hotel El Dorado Royale Casitas
To make your experience at El Dorado Royale the best memory, we have facilities that provide a range of services for you, restaurants, bars, entertainment and much more, including 13 pools, among which is a saltwater pool and an artificial river that runs through the hotel.
Activities. Enjoy the various activities we have for you, non-motorized watersports and bicycles, tennis courts and fitness center; for those seeking relaxation, yoga classes are a great option.
Nightlife. The nightlife is not expected in El Dorado, with disk nights where besides enjoying the live music and acrobatic shows, also will participate in a tasting of wines and tequilas.
Spa. To give an even more romantic touch to your Royale experience, please visit the spa and be pampered with relaxing treatments and renewal offered here.
Weddings. Such a romantic place I had to also be the perfect stage to the other. Approach the hotel staff, who will gladly help you organize the most important moment of your life.
Restaurants and Bars

Delicious dinners with the best drinks in magic and special environments with a Gourmet Inclusive concept, El Dorado Casitas Royale offers 7 a la carte restaurants, which, for convenience, do not require prior reservation.
Cocotal. This restaurant flavors are varied, with several presentations at international food in elegant surroundings.
D'Italia - contemporary Italian. It is a romantic Italian restaurant serves dinner from 5:30 pm until 10 pm.
Kampai- Pacific Rim. Here you will taste the most delicious sushi in the middle of an oriental atmosphere with Buddha statues as part of the decor.
Island. A palapa outdoors, with international cuisine a la carte breakfast, lunch and dinner. The dinner is gourmet Mediterranean.
Jo jo's Caribbean Seaside Grill. Gourmet dishes made with fresh seafood, with wonderful views of the Caribbean Sea. The atmosphere is casual. Lunch and dinner are served.
Fuentes - Culinary Theatre. A different experience living here, because every night is different, the same issue that will delve with support from the big screens around the restaurant, in these you will observe the process of preparation of each dish 5 times screens, accompanied by music and alluding to the theme videos.
Rincon Mexicano. With breathtaking views of the garden, you'll enjoy the authentic Mexican flavors. Dinner is served in a casually elegant atmosphere.
D'Italia houses. Luxurious Italian restaurant with spectacular views of the Caribbean Sea, dinner from 5:30 pm until 10 pm are served here.
Lobby Bar Martinis. Martinis, vodkas and other national and international, from 12 noon drinks.
The Loggerhead Bar. Best cold drinks, accompanied by live music while relaxing on a swing.
Gaviotas Seashore Bar. This bar is located just opposite the restaurant Kampai.
Beach Bar. It is opposite the beach offering breathtaking views.
Swim Up Bars. For your convenience, each pool has a bar, where you will enjoy the most refreshing drinks without having to leave the water.


Location Hotel El Dorado Royale Casitas
El Dorado Casitas Royale is located on the road from Cancun  to Playa del Carmen on the Riviera Maya just 25 minutes from Playa del Carmen and 30 minutes from Cancun airport.
Photo Gallery Hotel El Dorado Royale Casitas